Why do you need third-party content?
Too much branded content can get boring. No one likes to listen to anyone go on and on – narcissism is a huge turn-off. Therefore, it's a good practice to strike a balance with a healthy mix of industry-related third-party content (news, expert-authored articles, etc.) – which effectively generates high engagement on social media networks.
What's more, it helps your employees position themselves as thought leaders in their space, while enabling you to communicate your message in a smart, yet indirect way. Most importantly, it helps build and retain valuable customer trust via insightful, non-salesy content.
Content curation with Socxo – powered by
Socxo's content curation, powered by UpContent, helps you discover, curate, and distribute fresh, compelling, and relevant content to your users and groups. With web content reaching deafeningly noisy levels, UpContent helps you cut straight through the noise and find exactly what matters to you – insight-rich, credible content.
What does it do for you?
UpContent helps you find meaningful, appealing content from credible sources you didn't even know existed – besides your favorite publications of course – via a proprietary crawler that can serve over 1 million articles per month, making for continuously high engagement and enhanced trust...and resulting in long-term relationships.
How it works
Discover
Set the criteria for relevant articles. The UpContent proprietary crawler crawls and analyzes millions of articles per month to filter out the best ones for you.
Curate
Execute complete control over content meant for your audience via customized filtering algorithms.
Review
Review and approve to ensure consistency and compliance.
Distribute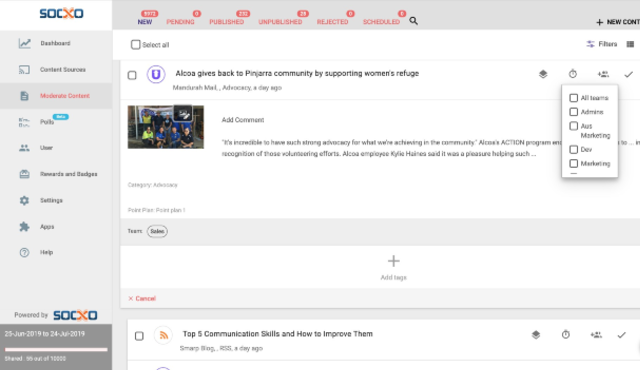 Manage which articles are shared across which channels via direct integrations into your favorite technologies (or via RSS).
Analyze
Assess the value of your curation efforts – to your audience as well as your organization – via performance analytics.