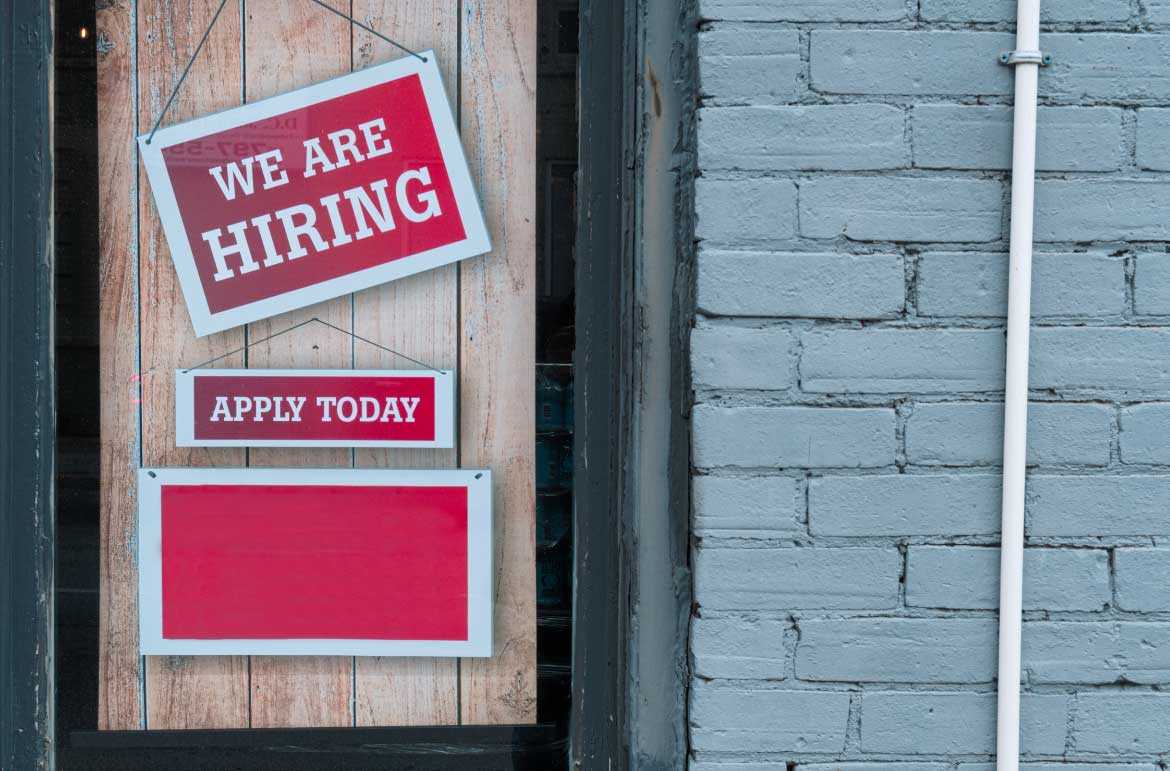 Did you know that 86% of job seekers use social media today?
Social media has become an extremely important resource for hiring talent today. The report cited above also highlights that 64% of the recruitment teams have dedicated social media accounts, especially for hiring new employees.
It makes total sense, as well, since social media is a meeting point for talent from across the globe. People belonging to any and every industry surf social media not just for entertainment but for employment opportunities as well. In a LinkedIn article, a recruitment specialist highlights that 73% of millennials today have found their current work through social media. Social media recruiting might prove to be more fruitful than opting for the traditional job-hunting print media for accessing a global talent pool.
You may even attract the talent pool that isn't actively seeking a job but looking for better opportunities; because these professionals may not create a profile on recruitment websites.
Data doesn't lie: more than half of the world uses social media today (59%).
It is impossible not to find a few talented people from this huge pool, provided you execute your social media recruiting strategy correctly.
There is a plethora of social media recruiting platforms that you can access today to find the candidates that are the best fit for your business. Let's explore this ecosystem of social media recruiting and understand what it entails.
Introduction
What is Social Media Recruiting?
Social Recruiting vs. Traditional Recruiting
Benefits of Social Recruiting
Top Platforms for Social Recruiting
Social Media Recruiting Strategy
Best Examples of Social Media Recruiting
The Final Word
What is Social Media Recruiting?
Social media recruiting is the process of leveraging social media platforms like LinkedIn, Facebook, Twitter, Instagram, etc., to search for the right candidates for an opening at your firm.
You may have also heard of social media recruiting by the names of social media hiring, social network recruiting, or simply social recruiting. They all refer to the same concept- finding a suitable candidate through social media.
Social recruiting is quite popular among businesses today. In a survey conducted by Career Arc, the team discovered that social media and social recruiting were at the top of the investment lists for employers in the year 2021.
Social media recruiting has become the most preferred online method of searching for new candidates. 92% of employers agree that they actively use social and professional networks to hire new talent for an open position.
The writing is on the wall: social media is rapidly rising to the top regarding recruiter preferences. It is also highly popular among the newer generation of professionals.
Social Recruiting vs. Traditional Recruiting
Social recruiting allows recruiters and employers to tap into a global talent pool through a more open communication channel than traditional recruitment methods. The major aspects where social media recruiting competes with conventional recruiting methods are discussed below.
Open Communication
It is easy to strike up a conversation with your applicants or potential new hires on social media to get to know more about them. Their social media profiles allow you to get a glimpse of the kind of people and professionals they are and judge whether they would be a good fit for your business. You also get to see their connections on social media, which helps you understand the strength and quality of their network.
On the other hand, traditional recruitment methods do little to give you this valuable insight into your new potential hires. There is only so much you can tell about a person through a cover letter, right?
Wider Reach
Perhaps one of the biggest advantages of social network recruiting is that your business gets access to a global talent pool. The geographical boundaries hold no significance online; the job openings you post are visible to professionals worldwide. It improves the reach of your vacancy advertisement automatically.
On the other hand, while traditional recruiting does get your advertisement to reach those who may not be using the internet, it still limits your reach to a more local/regional talent pool. You can reach a national audience at best using traditional recruiting methods, which makes social media recruiting better.
Tapping Into Driven Candidates
It is hard to understand a candidate's motivation level by merely reading their cover letters and resumes. Most of the time, these documents are templatized and do little justice to the actual talent that a candidate may possess.
On the other hand, profiles on social media platforms like LinkedIn let you see how carefully an individual has showcased their career milestones. It also lets you see how active they are in the community, and the content they post, share and interact with. It helps you derive valuable data on your potential new hires and gives you a full view of their capabilities.
Branding Opportunities
Although it is quite indirect, a social recruiting strategy helps your brand subtly announce its branding and general approach. As opposed to a firm that adopts the traditional recruiting methods, your business comes out as more contemporarily relevant and in step with the times than the former. Quite a few high-calibre professionals seek out brands open to embracing the developing technology and trends.
The firms adopting traditional hiring methods may be reputable on all accounts, but this would fail to attract the candidature of people who seek the qualities of flexibility in a firm.
Wildfire Advertisements
Another comparison between social recruiting and traditional platforms is the popularity of the advertisement. If your business has an active social media profile, a job vacancy can quickly rise to popularity with sharing and resharing amongst the platform users. It is similar to a chain reaction that helps your advertisement reach more people quickly.
Advertisements on your traditional platforms can reach only the network that the platform itself has access to. For example, advertisements in the local newspaper would only get you responses from the areas that the newspaper serves.
Benefits of Social Recruiting
Albeit a little old, a LinkedIn report discovered that 70% of the world's job seekers were passive, meaning they weren't actively looking for a job. This talent pool keeps looking for opportunities online on resources like LinkedIn and Twitter to find a profile better suited to their talents. These people send in applications only when an attractive opportunity shows up.
With social media hiring, you are bringing in this latent pool of talent by advertising your vacancies on social channels. Let's look at a few key advantages that social network recruiting brings to your business.
Cost-Effective
Social recruiting platforms offer a cost-effective way to reach a candidate pool. Whereas with traditional channels for recruiting new talent, your business would need a budget for running the advertisements in print media. Additionally, the costs would increase with each new traditional channel you want your advertisement to run on.
In 2022, the average cost per click to post an advertisement on Facebook is $0.929. The expense math is really simple, given that the total active users on Facebook today are approximately 2.9 billion monthly worldwide. For promoting each advertisement on this platform, your business pays just under a dollar for each click you receive from the possible candidates among those 2 billion people.
Compared to Facebook, running a sponsored ad on a job site and promoting the ad incurs daily charges upwards of $5 (which may reach up to $500). The reach of your job listing depends on the marketing package you select, which only becomes costlier to sustain.
Quicker Responses
Statista reports that, on average, people spend roughly 147 minutes perusing social media daily in 2022. That is over two hours of daily active users of social media platforms, checking and responding to messages, creating and sharing content, and engaging with other people and brands.
As such, earning a response to your job vacancy advertisement posted on social media is easier. People are exposed to your advertisement quicker, and they can respond promptly as social media platforms have the option of direct messaging and commenting. Compared to job websites that require longer advertisement and engagement timelines, a social recruiting strategy is much quicker.
Access to a Larger, More Diverse Talent Pool
As highlighted earlier, many talented individuals might not be actively seeking a job. While engaged with their current employer, many niche professionals actively search for better opportunities on social platforms like Twitter and LinkedIn by creating new connections and following the industries of their specialization. This talent pool never surfaces on the traditional recruitment channels; such channels only fetch you, active job seekers.
The job vacancy you advertise through a social recruitment strategy may fetch you the exact match from these passive opportunity hunters looking for a jump in their careers.
Targeted Advertising
Social media platforms are equipped with amazing functionality that lets your business decide which type of demographic gets to see your advertisement.
The availability of labels, tags, filters and advanced search settings allows you to tweak the reach of your advertisement to the intended audience. For example, you can tweak your advertisement filters accordingly to attract candidates from a specific location, industry, or expertise. Facebook then shows your advertisement only to the audience that conforms to the filters you have set.
It helps you receive high-intent applications and automatically functions as the preliminary screening exercise for which you would otherwise invest additional man hours.
Brand Awareness
According to a poll conducted by Glassdoor in 2019, it was discovered that brand image plays a critical role in attracting candidates for a job listing. According to the findings, 86% of the respondents would read company reviews and research its reputation before deciding to apply for a vacancy posted.
Businesses already leverage social media to create a positive brand image. A well-designed social recruiting strategy can help your brand stand out through a good branding strategy. It will also help you attract more applicants through social media recruiting.
Top Platforms for Social Recruiting
Some of the most popular platforms for social network recruiting are LinkedIn, Twitter, Facebook, and Instagram. Certain niche businesses like beauty, fashion, and entertainment might also hire through social media platforms like Instagram and TikTok.
According to the Jobvite Recruiter Nation report, 51% of the recruitment investment would focus purely on social media for recruiters and employers.
Let's break it down and understand the top three social recruiting platforms:
LinkedIn
According to the same report, LinkedIn is the top-ranked platform for social media recruiting investments. About 39% of the recruiters plan to invest in this social platform for headhunting professionals that fit the bill.
LinkedIn is a hub of business professionals seeking to create and share quality niche content and create new connections within or outside their industries. It is an online meeting place for professionals, which has a high potential to be leveraged for headhunting and recruitment purposes. LinkedIn lets you see all the professional activities your candidates have been involved in through their profiles.
Facebook
Facebook is one of the most successful and far-reaching social media networks that came and shook the world. Not surprisingly, this social platform follows closely behind LinkedIn regarding recruiter popularity. Many recruiters admit to posting advertisements on Facebook to look for suitable hires for a job vacancy.
The biggest benefit of Facebook is that it allows you to target specific audiences while giving you access to billions of profiles worldwide that may be relevant to your job vacancy. The cost of running an advertisement promotion isn't a big blow to the pocket either.
Instagram
Instagram is next in line in popularity when posting jobs on social media. The platform offers visually immersive advertising with a feature for the viewers to leave comments, like, and share the ad with more people who may be interested. It has a monthly active user base of 1.2 billion, providing a great opportunity for your advertisement to become viral quickly.
Instagram also provides in-depth statistics to monitor how your advertisement performs, an added bonus of social media recruiting on this platform.
Twitter
After Instagram, Twitter is the most used platform for social network recruiting. This platform is a collection of professionals, artists, politicians, celebrities, and a diverse type of highly active individuals. It helps your business get the recruitment message out quicker. The network helps spread your advertisement quickly.
Countless recruiters leverage the reach and capability of Twitter as a social media platform to attract relevant applications.
Social Media Recruiting Strategy
The following strategies and tips can help you set up a good social media recruiting system.
Assess Your Brand Position Online
If your business has had some time to prepare its online channels, chances are you have already built a decent following on your social channels. A good social recruiting strategy always begins with creating a stable, consistent brand presence online.
Post high-quality, relevant content regularly and get started on brand awareness. Dedicate a social media account with its hashtag to create a social media page purely for job vacancies and showcasing your work culture as Marriott does:
The page has almost a million followers and effectively communicates how engaging and fulfilling a job at Marriott is. They also use it for posting vacancies.
Bonus Tip: Your company culture and values should be visible on your social channels for maximum engagement and response. Showcase the journey of new hires to boost applications.
Create a Marketing Strategy
In the end, social media is just that – a place for people to socialize online. You must use a clever marketing strategy to turn it into a siphon for job applications. This is where it makes sense to utilize the filters and advanced search capabilities that a social media platform provides.
Create a visually stunning advertisement that resonates with the target audience you wish to leave an impression on. Select the location, age, gender, profession, etc., in the filters category to decide who can see your advertisement.
You must also work out the tone, voice, colors, vocabulary, and related brand properties to make maximum impact.
Bonus Tip: Keep posting updates about a position. It helps the interested audience stay engaged with what's happening with recruitment.
Execute with Precision
The execution phase is where your business needs to pay the most attention. Your recruitment marketing strategy must be consistent and carry the brand ethos in the undertone, no matter which platform you use for your social recruiting strategy.
For example, Underarmour's Twitter feed clarifies what they are looking for in their new hires: the best. It is a sports and performance apparel company, with nothing short of perseverance from its recruits:
Furthermore, employee advocacy helps your brand target your ad within your business's niche. It isn't surprising that employee advocacy and social media recruiting go hand in hand. The social network of your employees is likely to consist of the following:
Experts of the same industry with varying levels of experience and expertise in their niche.
Passive job seekers looking for an opportunity to work with other firms or expand their roles.
Trigger a network-based chain reaction that can greatly benefit your social media efforts.
In simpler words, your social recruitment strategy can be made to effectively ride on your employee advocacy programs with careful control and precision.
Encourage your employees to post job vacancies through their business social media handles. The authenticity of a listing coming straight from an employee's handle boosts engagement and response. It helps your brand get leads that are more willing to join the position. These professionals are already industry-groomed and have an idea of how things work.
Your business can benefit from crossing social media recruiting with employee advocacy in a planned way.
To that end, Socxo offers a free trial of its Employee Advocacy tool. You can navigate to this page and try the tool for free to augment your social media recruitment efforts with an effective EA strategy.
Bonus Tip: You can create a social media-based employee referral program to attract more applications and encourage your employees to engage with potential candidates.
Measure the Performance
Social media platforms for businesses today come equipped with analytical features that allow you to track how your ad campaigns are performing. You can focus on the key performance indicators like impressions, cost per click, shares, likes, comments, etc.
Ultimately, your goal is to increase the number of relevant applications received through the ad. Talent Promoter Score can help you measure the true performance of your social recruiting strategy. Higher scores reflect better online branding.
It would be best to leverage your brand awareness metrics to help your vacancy ad perform better.
Bonus Tip: Use analytics and paid advertisements to drive the KPIs to where your business would like to see them. These insights help your brand understand where the efforts need to be increased.
Best Examples of Social Media Recruiting
Let's look at two amazing examples of social media recruiting: Waste Management on Twitter and Hirewell on LinkedIn.
Waste Management
Not exactly the kind of business that comes to mind when discussing social media recruiting, Waste Management does show how it should be done. Twitter is a platform that limits content to 280 characters per post, which is restricting. However, by leveraging its brand message for that bandwidth, Waste Management can engage a large chunk of the audience in its social recruiting strategy.
The company makes it clear, even with its career-oriented efforts, that it cares for the people and the future of humanity. This spreads a positive brand message which works to encourage more applications.
Hirewell
Hirewell employs a genius strategy to take social network recruiting to the next level. Although the company isn't very big and doesn't have a wide geographical reach to speak of, it does manage to provide a lot of employers, job seekers, and recruiters what they need – the right applications or the right job.
Hirewell does this by maintaining a clean advertising filter. Its posts are highly niche-relevant and targeted toward a specific audience. Additionally, by featuring a video podcast each week, Hirewell is able to convey the latest news and opening, insights from industry specialists, and other relevant content to make the post more engaging.
Source
The Final Word
Social media hiring is the new recruitment normal today. Job seekers flock to social media platforms in search of jobs, even before checking their job portals or the newspaper. Emails may still be relevant but don't provide the prompt interaction that a social media platform can afford.
If your business has new vacancies opening up soon, it is time to consider creating a robust social media recruiting strategy with Socxo.