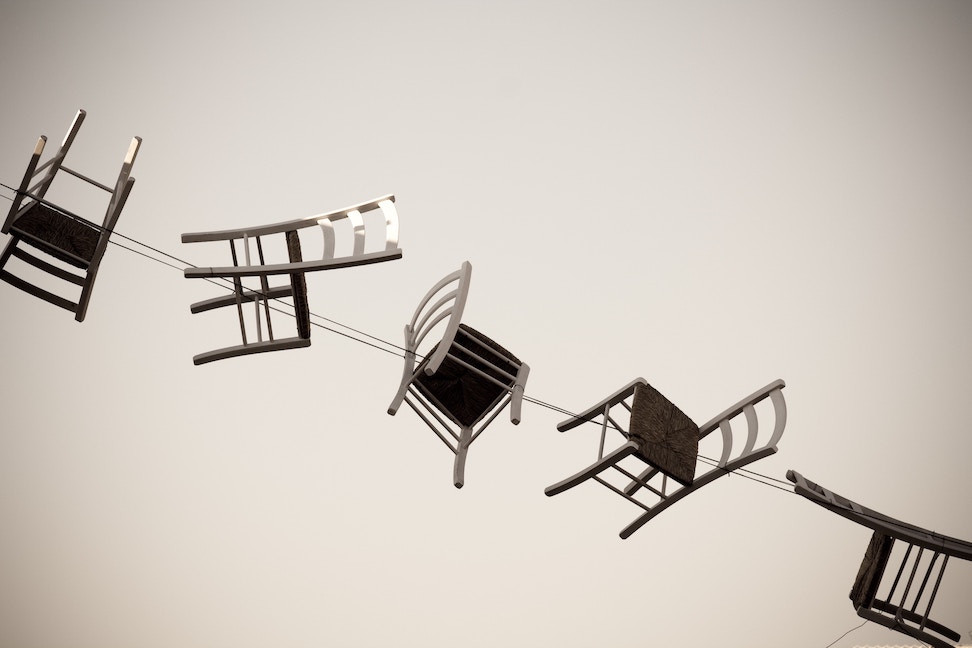 "We now observe an Alice in Wonderland moment of elite buoyancy and mass despair," Edelman said in an essay reflecting on the Edelman Trust Barometer 2020.
The latest Edelman Trust Barometer report reveals continued distrust among consumers, despite the trust index increasing by a point from the previous year. The study, based on a survey of over 34,000 respondents across 28 markets, reveals that despite strong economic performance, a majority of respondents in developed markets do not believe they will be better off in five years' time.
Let's look at the paradoxes that emerges from the report. Shall we say opposites attract?
The Paradox of Work; Want a better life, maybe you should not work too hard.
Many people no longer believe working hard will give them a better life.
Despite strong economic performance, a majority of respondents in developed market do not believe they will be better off in five years' time.
Economic growth no longer appears to drive trust, at least in developed markets. Contrary to the conventional wisdom. This is powered by a growing sense of inequality which is undermining trust in both society's institutions and capitalism.
The Paradox of Performance. Just because you perform well, does not mean you what you do is right.
Most people perceive that It's not possible to be competent and ethical at the same time across the governments, non-governmental organizations (NGOs), businesses, and media companies –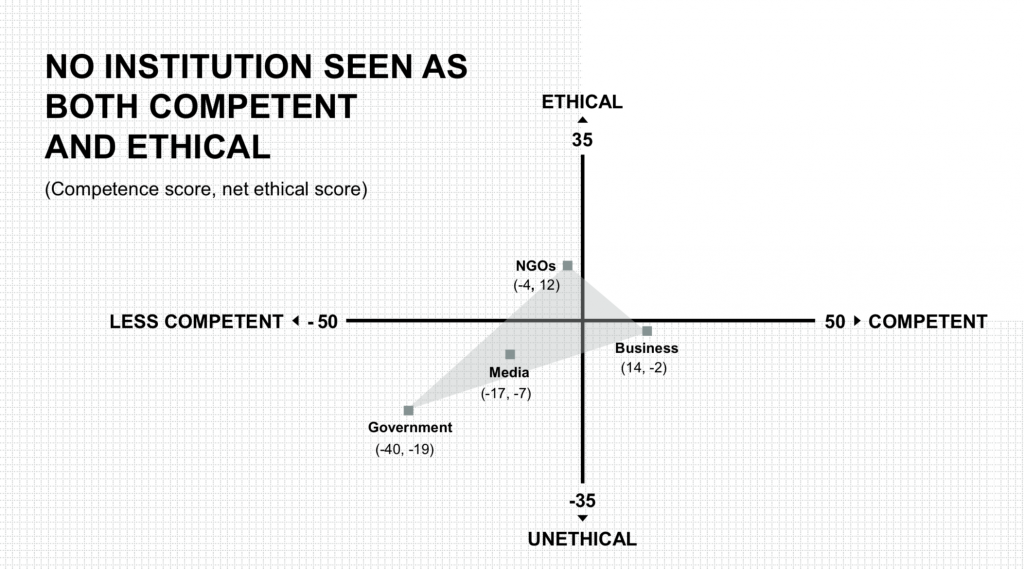 Interestingly, businesses are seen as competent entities, while NGO's perceived as ethical. But, they are not too competent. What's surprising, is that people's belief in Media and the Government are seen as suspicious and blundering. This can be seen as the aftermath of the grandstanding and fake news phenomena of the last few years.
Paradox of scale. Just because you are big does not mean you can be trusted.
While it's heartening to see that trust in businesses has increased, trust in business has increased in 15 of 26 markets, with family-owned businesses being trusted more than privately owned ones. And there are some big downswings in the trusted and neutral zones. Especially the US, where its lost by 4 points in neutrality, and the middle east losing 6-8 points in trust. Echoes the same sentiment of erosion of trust rather and gains.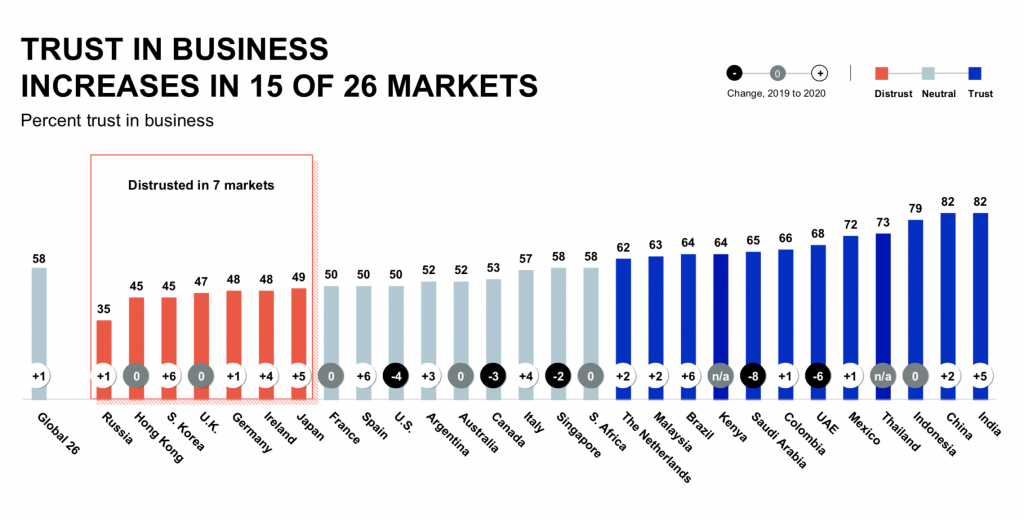 Paradox of technology. Hi tech and more tech, is not necessarily all good.
What's more, there's a high belief that technology is heading out of control. Perception of technology for innovation is getting replaced by technology being used as means to alter perceptions. What's worse, people don't believe that governments are not equipped to understand the tech, leave alone regulate it.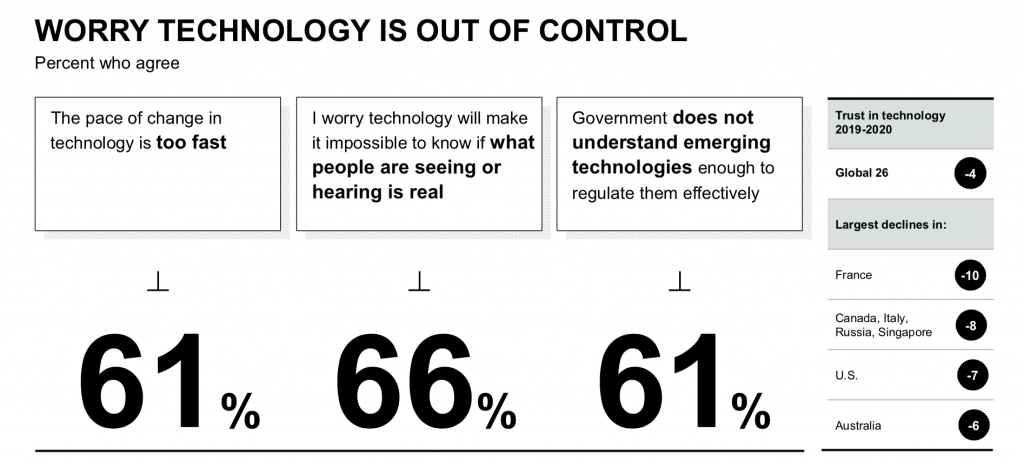 No wonder, trust seems to have declined across business sectors, led by technology and entertainment. The energy, automotive, and consumer packaged goods (CPG) sectors came in a close second.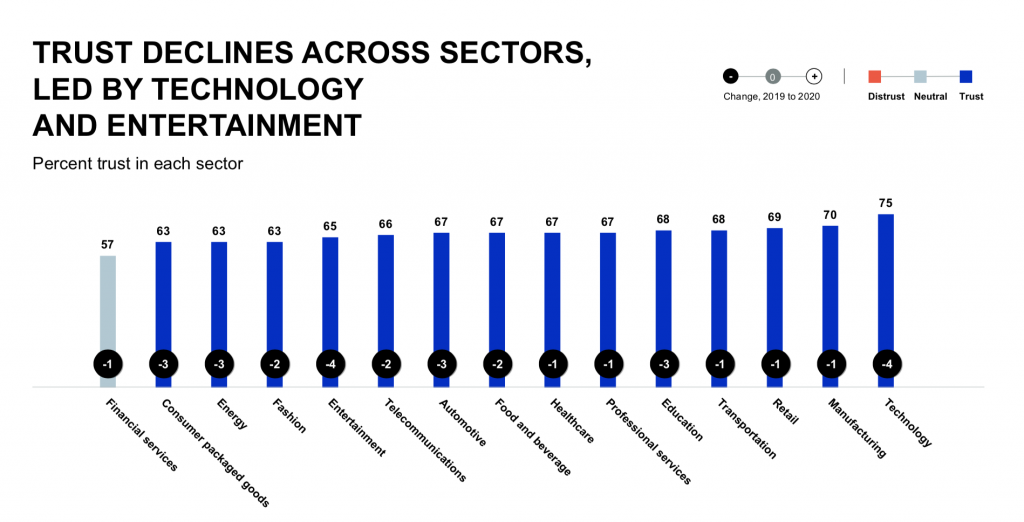 However, in terms of institutional performance, business leads, largely being considered to do well in term of generating value for owners and driving innovation and economic prosperity. In fact, businesses are also among the top performers when it comes to having a vision or purpose for the future, next only to NGOs.
Paradox of Participation. We believe that business and societal must issues intersect.
A trend that showed significant growth in 2017. Remains constant through last year. Brand Democracy. As consumers we believe that brands have the responsibility to act on societal problems and act on it. We see a strong emergence of belief led buyers. Consumers expect brands to identify and act on societal beliefs and take a stand for what's right.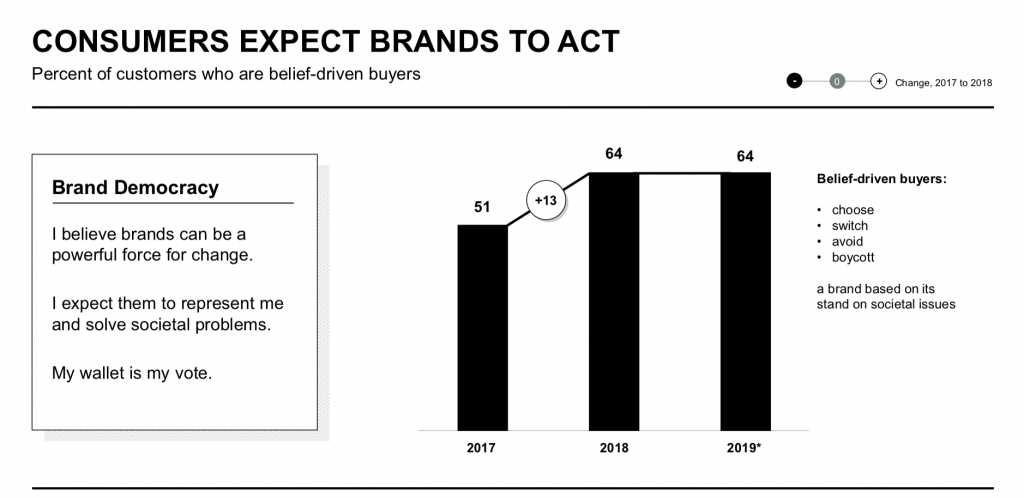 Paradox of power. Just because you have power does mean you will do good.
That Spiderman quote "with great power comes great responsibility" often tossed around as a bar room punchline to make you seem deep, is true. And that goes for all those in power who are not using it responsibly. And that goes equally with influencers and such who are out of the trust zone.
Instead, people turn to the experts and peer groups. This reinforces the ongoing trend that consumers trust acquaintances over brands, the largest winners in this category were experts (technical as well as academic), peers, employees, and CEOs.
"People trust experts, and they trust people like them – employees or fellow citizens," says Richard Edelman, CEO of Edelman.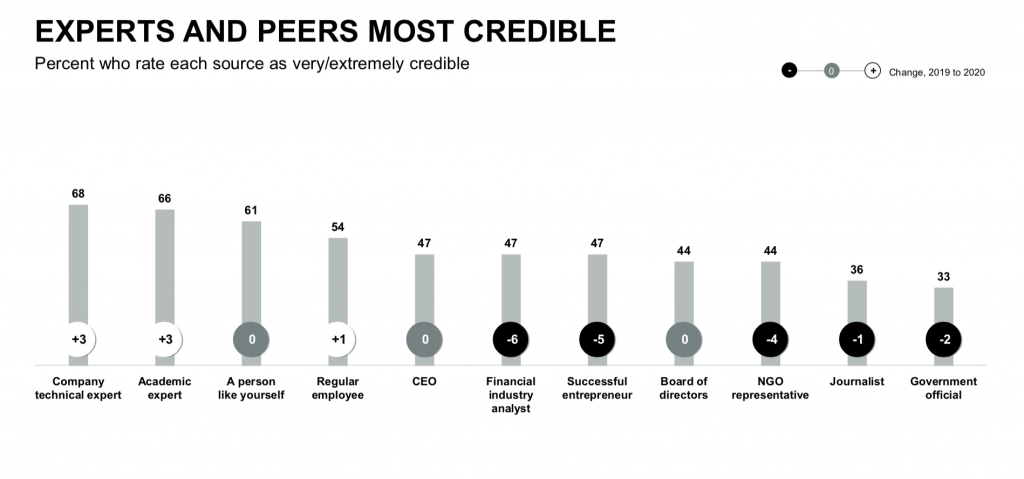 Paradox of news. What's new, might not be true.
Steering clear of fake news and information. As people continue engaging with news as they have for the past couple of years, there's a growing wariness about fake news, false information, and overall untrustworthy content. Worse, a growing number of people are worried about fake news being used as a weapon – this in fact probably explains the growing popular perception that brands should be held accountable for spreading fake news and that they shouldn't advertise on any media platforms that does not prevent the promotion of fake news and false information.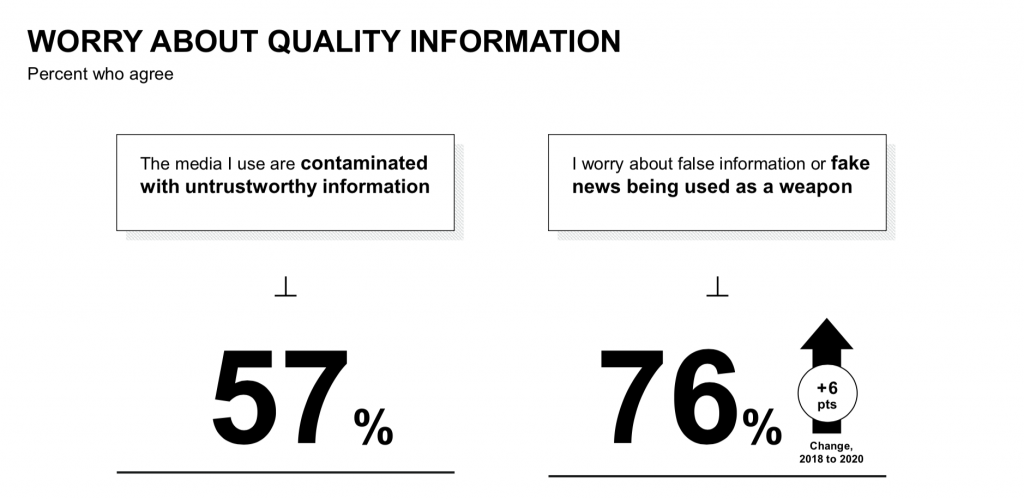 People's belief in Traditional news sources continues to be significantly higher as compared to marketed news and social media where the deficit is stark continuing from the 2017 report on distrust.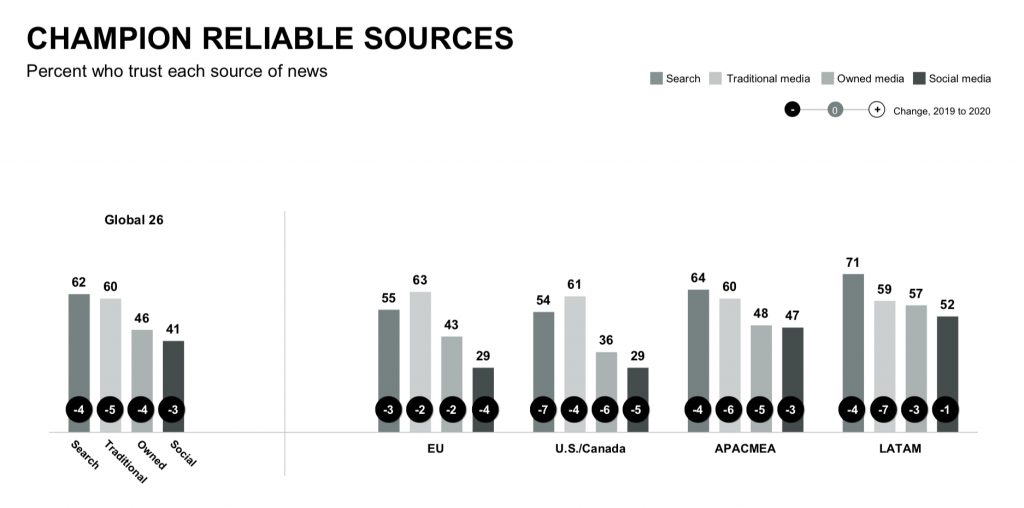 Organic over paid. Unsurprisingly, search engines have emerged as one of the most trusted sources for news and information. In other words, the higher your organic reach, the higher your chances of gaining trust among your audience.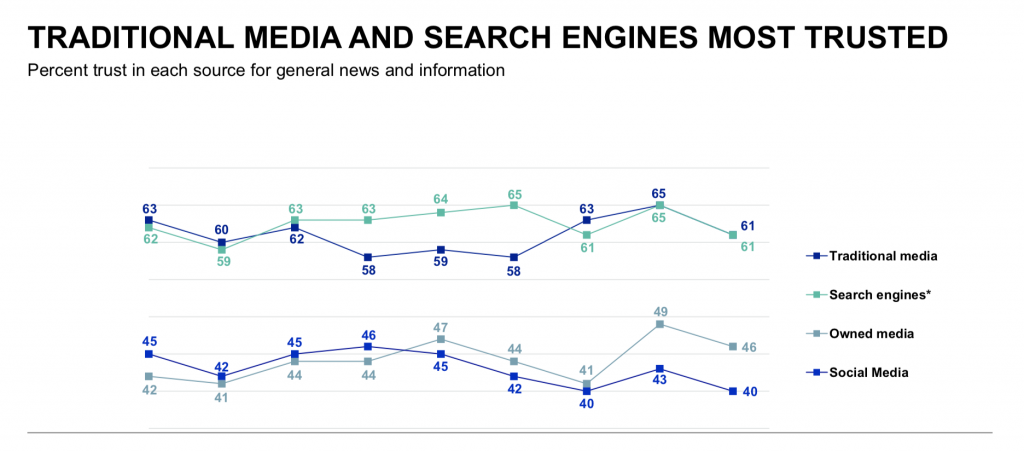 Where do we go?
Play fair. In terms of building brand trust for the future, people are clear – while looking for a combination of both competence and ethics, the emphasis is more on ethics. In fact, it's three times more important than ethics. No matter how tempting, never look at the short term. The ends don't justify the means, and they never did. And in the age of social media and information, you can't even hide. You'll just get caught, tried, and sentenced before you even realize what's happening. Instead, focus on the long term. Think of how you can make a difference starting today, no matter how long it takes to see the difference. You'll be loved for it
Offer value at every opportunity. Serve all stakeholders. The study also discovered that stakeholders are far more important than shareholders to long-term brand success. In fact, 73% of the respondents believed that brands can take actions that increase both, their profits as well as the social conditions of the areas that they operate in. Ensure an incredible employee experience. Let employees be heard. And above all, make sure that customers are valued. Listen to them, solve their challenges, seek their advice. Share rich, insightful content that inspires all your stakeholders, and keep your communication channels with them open and active at all times.
AirBnB was quick to adapt to the demand – last Friday, the online accommodation marketplace announced its decision to update its corporate governance strategy to focus on "stakeholders" (including employees, hosts, and guests), and not just investors. It also stated that it would organize a "Stakeholder Day," similar to an annual shareholder's meeting, and amend its compensation program to reward goals such as improved guest safety.
Take a stand. CEOs, speak out. Employees and consumers alike expect brands to act, according to the report. While a large number of working professionals (92%) expect their employers' CEOs to speak out on economic as well as social issues such as ethical use of technology and its impact on jobs in the coming years, training for jobs of the future, income inequality, diversity, and climate change, almost three quarters of them (74%) expect CEOs to lead the charge for action instead of waiting for governmental bodies to impose changes.
Consumers, too, expect brands to take positive action – they expect brands to represent their stand on social problems, work toward solving them, and overall, be a powerful force for change.
Again, a few CEOs are already picking up on this finding. Soon after the report was published, Microsoft announced its intention to reduce more carbon from the air than its operations – as well as those of its supply chain – generate by 2030.
Has a lot changed?
The trust crisis is not a new one. While trust has shifted and morphed from one entity to another over the years, the crisis over where to place it has existed since nearly the beginning of time – as has been highlighted by the Edelman report over its two decade-long publications. As a brand, all you can do is stay true to yourself, your word, and all your people – and keep your communication lines open at all times.