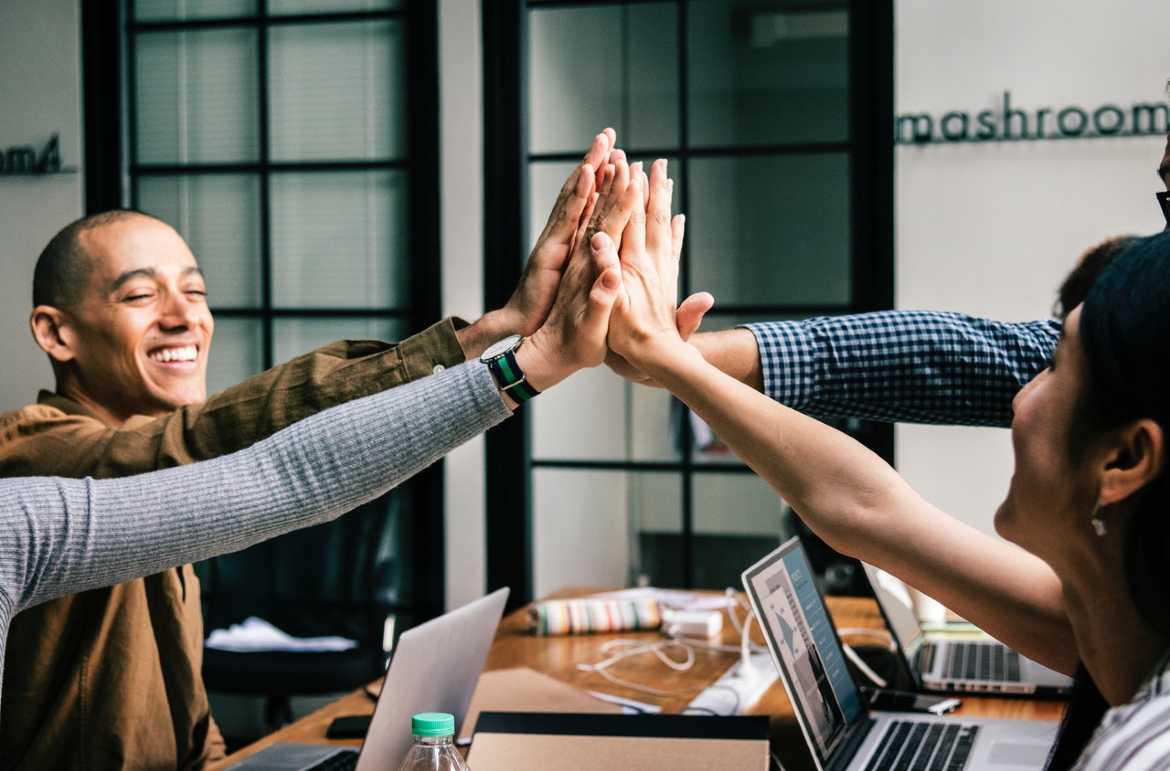 Is it not a great idea to have teams of passionate employees promote your brand? And why employees would be interested to do the same? Would like to know ways you can encourage employees to advocate for your brand? This is where employee advocacy pitches in. It takes a great deal of passion, sense of involvement as well as a strong belief in the cause. Employees should have a positive feel about the organization they work for and must be empowered with requisite tools and training for advocating for the brand .
There has been a paradigm shift from traditional objective of profitability to brand awareness, which has been the modern business goal of most corporate. We have some interesting facts on why employee advocacy is crucial for corporate and how it creates employee engagement.
Embracing employee advocacy for achieving a wider social reach, expanding customer base & enhancing customer loyalty has become the new age corporate mantra!
Employee Advocacy Leads To Improved Corporate Communications
Communications has been a critical aspect of businesses from ages and the trend continues. With an effective employee advocacy program, corporate can enhance their communication, specifically internal communication. However, there are six common myths of internal communication and employee advocacy. The reason being, improved corporate communication leads to improved trust, credibility and positive reputation for the corporate.
Expanding Horizons
Employees' social shares are viewed as more credible and trustworthy compared to that of brands. The more employee advocates a corporate has, the more is the expansion of social territories. Customers have evolved to be sensitive to brand messages, especially those spread across social media.
They are more receptive to recommendations by trusted sources rather than faceless corporate messages. When properly implemented, employee advocacy results in positive word-of-mouth, introducing prospective consumers and engaging existing ones.
Social shares have higher potential to drive lead generation, improve overall sales and marketing efforts for a corporate. Unleashing the potential offered by social media, employee advocates can also become experts and thought leaders to steer customers through the buying journey.
Inculcating Efficiency in Recruitment, Sales & Marketing Processes
Recruitment
Attracting and retaining right talent for the right role at the right time has significant implications on corporate. Reputation and company culture has become the most crucial twin factors considered by candidates for taking up employment with a corporate. Employee advocacy helps improve brand value and visibility of corporate, which opens doorway for higher influx of right talent.
Sales & Marketing
Emotional connections matter for purchasing decisions. Social media presents a more personal platform for sales professionals to leverage their abilities to influence purchasing decisions by factoring in customer behavior and historical interactions with the brand.
Addressing customer needs, solving challenges and responding in real time is made possible with social platforms.  Businesses across the globe attributed their substantial increase in sales to the social engagement of their sales team.
Employee advocacy also brings a human touch into marketing by uniting B2B and B2C interactions in real time. Corporate can boost their marketing campaign with employee advocacy.
Organizations can amplify their marketing messages by encouraging employees to share approved branded content on their personal social media channels. The key benefits it brings include better employee engagement, increased social presence, fostered thought leadership.
According to Hinge Research Institute and Social Media Today estimates, almost 64% of companies with formal employee advocacy programs credit advocacy with attracting new business. Additionally, 45% attribute new revenue streams to employee advocacy.
Creating Lasting Employee Engagement
So, who are engaged employees? Engaged employees are "those who are involved in, enthusiastic about and committed to their work and workplace."
Employee advocacy may seem a usual corporate mandate initially to employees. However, it is rather a great way to drive employee engagement tangibly, boost social reach of brands and inculcate thought leadership.
Business success highly rely on the collaborative effort across teams & departments working together towards a common cause, and employees working towards their full potential, while being dedicated to their company.
Employee engagement can be increased two-fold by focusing on building up employee strengths, rather than correcting weaknesses. Corporate must understand and consider the unique potential of each employee and empower employees with the right platform, skill and guidelines to fuel brand awareness.
Companies with engaged employees outperform those without by up to 202%. —Dale Carnegie Training
Therefore, employee advocacy has become a must have for organizations to thrive in the current digital transformation age!
You can also CONTACT SOCXO to get customized solutions for advocacy marketing.