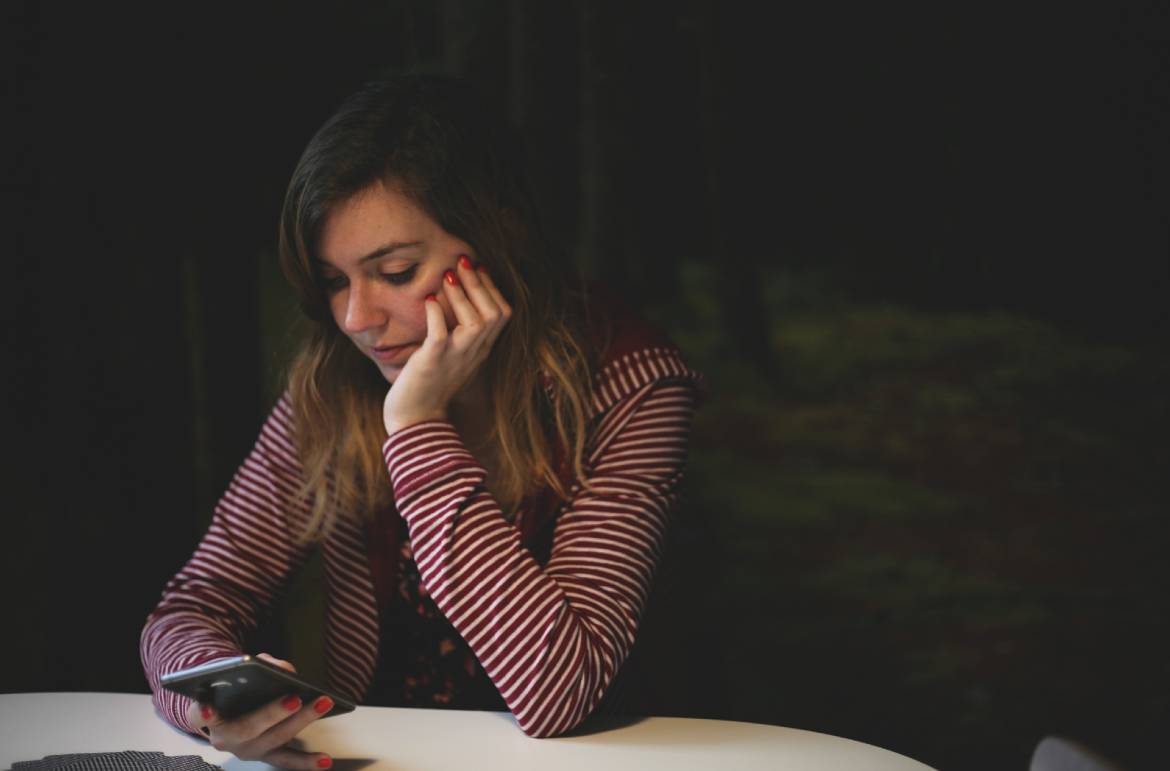 The engagement story is trending heavily, and everybody can't seem to stop talking about the benefits of having engaged employees around at work. It's the absolute dream of every employer to have a passionate and engaged workforce which fiercely advocates about their organization. However, this is actually far from reality!
A mere 29% of the workforce is engaged, a whopping 45% are disengaged, and 26% are actively disengaged (Source – Dale Carnegie and MSW)
Disengagement seems to be on the rise, and just a few disengaged employees are enough to wreak havoc on your work culture. So, what does it mean to be a disengaged employee? A disengaged employee does not experience any joy or excitement in their job; they go through the grind of the daily routine in an uninspired and demotivated manner. They have no affiliation towards their organization and do not want to put in any kind of extra hard work to achieve organizational end goals. Disengagement spreads rapidly and creates an air of discontentment, often demotivating workers who were previously engaged.
You need to keep your radar screen on alert and be cautious to ensure that engagement runs high at your company. Before you can take meaningful steps to solve the problem of disengagement, it's essential that you can recognize and differentiate engaged employees from disengaged ones.
These vital indicators will help you keep a keen eye out for identifying your star performers while taking focused measures to pull up disengaged employees –
Engagement Drives Initiative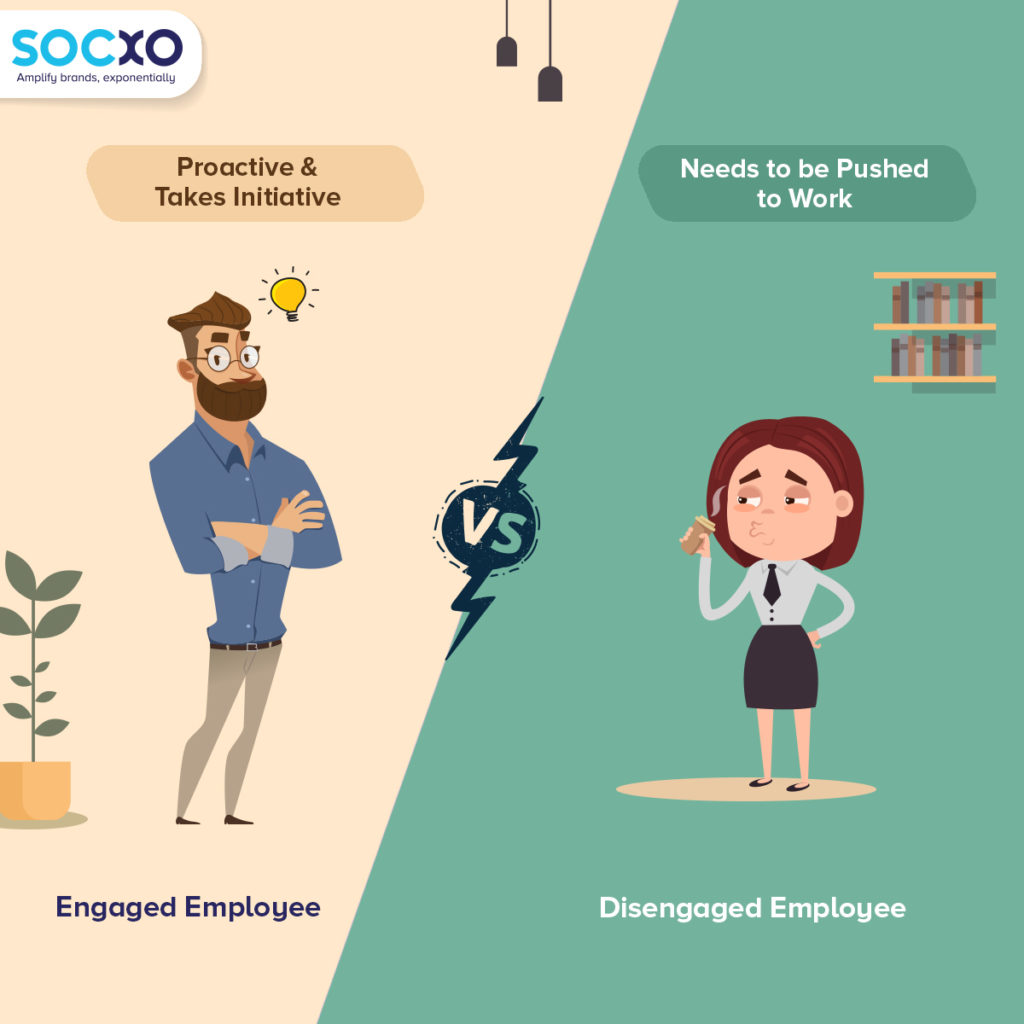 Proactive, resourceful, ingenious and innovative – these are the typical characteristics of engaged employees. They are more than willing to push themselves beyond the edge and exert discretionary effort to achieve any task that is allocated to them. Fast and enthusiastic learners, employees who are highly engaged are not afraid to think out of the box and are often agents of change who bring about dramatic positive transformations.
On the contrary, disengaged employees are not happy workers and need to be pushed hard to give results. They do not derive any challenge or excitement from their work and squander away time while they are supposed to be working. Disengaged workers need to be given opportunities to take up projects that stimulate them so that they can enjoy what they do and perform to the best of their capabilities.
The Engaged Communicate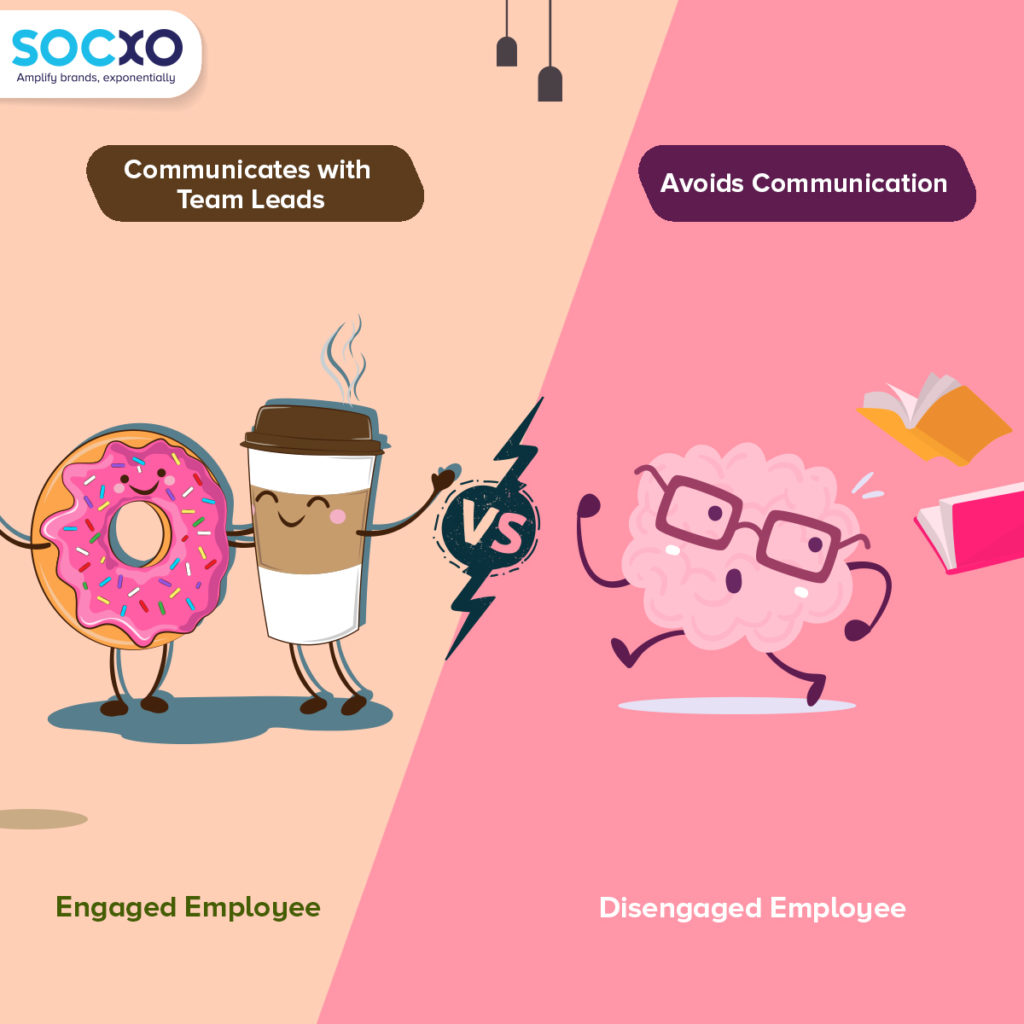 Good open communication is a driving factor to make sure that your workforce is engaged. Employees who are passionate about their work openly share their opinions and brainstorm about new methods that can be implemented to achieve organizational results. They do not hold back from expressing what they feel and develop great work relationships with superiors, peers and team members.
Disengaged employees rarely communicate, remain unresponsive and never ask for feedback about their performance. They do not seek suggestions on how they can enhance current execution of duties and interact minimally with senior management. Employees with low engagement levels do not even bother to form a rapport with team members and do not contribute to group events. Try to drive disengaged employees out of their shell and talk to them about what can be done to make them happier at the workplace.
Engaged Employees Say, Stay and Strive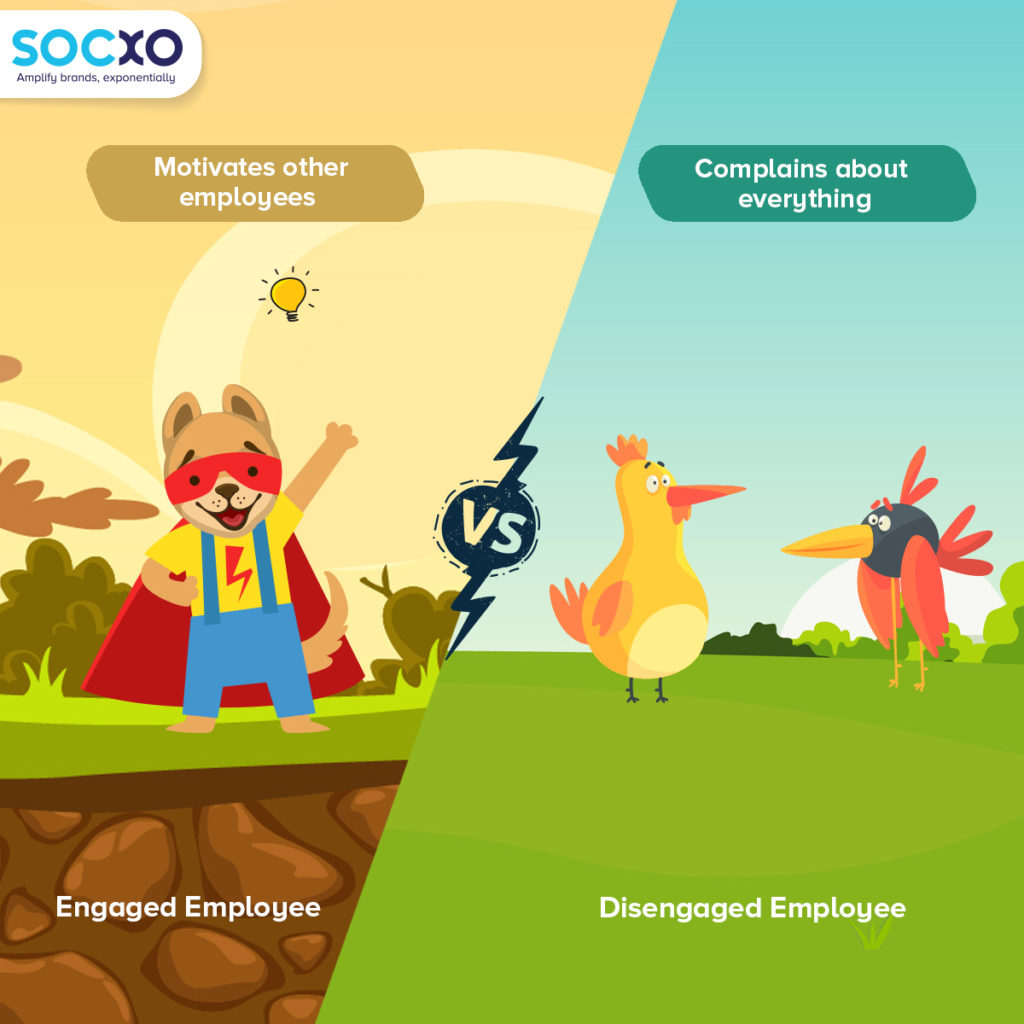 Happy and enthusiastic workers act as the strongest set of advocates for an organization! Hewitt Associates coined a neat phrase – 'Say, Stay and Strive' which accurately describes the behavior of highly engaged employees.
Say – Engaged workers lavish praise on their organizational policies, work environment, and challenges. They speak highly about the company and never miss out an opportunity to let others know about how they feel about their organization.
Stay– Engagement propels retention. Employees who are delighted with their work do not feel the need to look out better work assignments in the open market and switch jobs frequently.
Strive – The will to toil endlessly and achieve organizational goals is a by-product of engagement. Committed workers strive to put forth their best and make sure they deliver better than expected results.
On the other hand, disengaged employees uncouple themselves emotionally from their work and have no qualms in speaking negatively about their organization. They often dissuade others from working and do not promote or recommend their company to others. They are vocal about their professional displeasure and never talk well about their job or superiors in a public forum. Make sure you identify disengaged employees, counsel them and help them feel a valued part of your workforce.
Engagement Spurs Productivity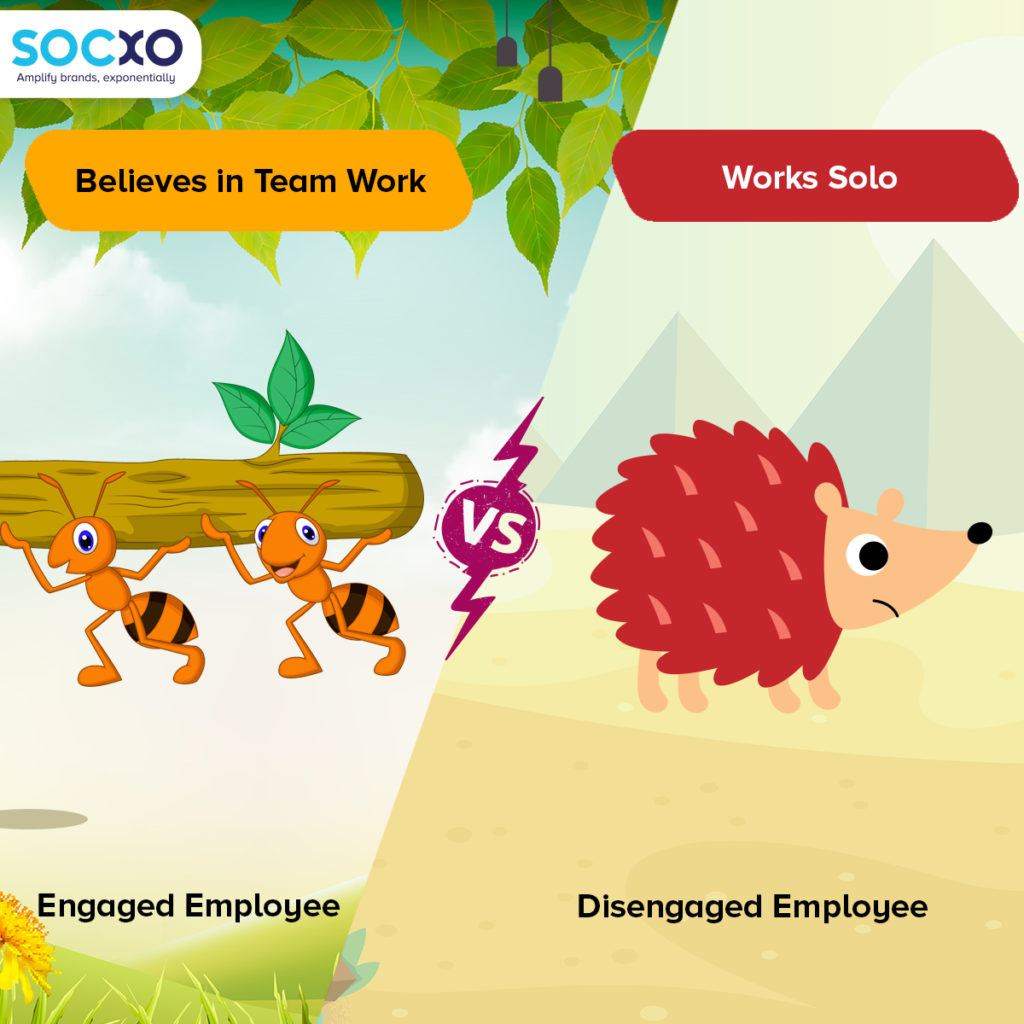 There's no doubt that engaged employees are happiest when they are at work – they look forward to Monday mornings and crave to get back to their workstations! Employees who are attached to their workplace make sure to achieve quantified goals assigned to them. They take pride in collaborating with team members positively and send profit levels soaring sky high. Engaged workers ensure that they are punctual, volunteer to undertake extra work and creatively solve problems keeping the organizations best interests in mind.
Signs of Employee Happiness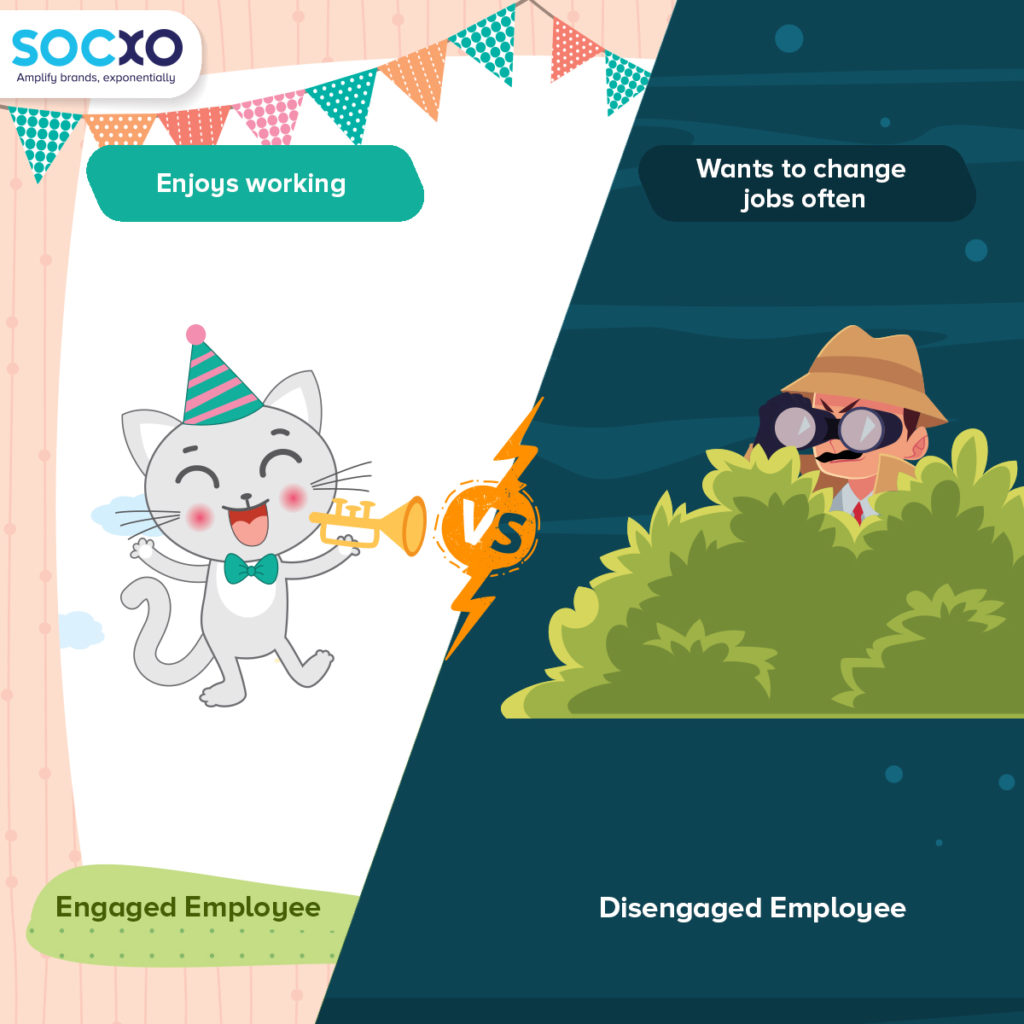 However, if you notice that your employees are constantly absent, switching jobs, low on energy and carry a bad attitude, you can be certain they are actively disengaged. Employees who are not motivated with not contribute in team meetings, disregard time deadlines and deliberately indulge in superfluous activities at the workplace. Disengaged workers will greatly hamper your productivity, so take action and make sure that you communicate with your disgruntled employees to help them overcome their issues.
Harnessing the optimum potential of your employees is a sure-shot secret to professional victory. You need to make sure you have a super strong engagement strategy, and employee well-being should be your number one priority. Foster an environment that keeps the wheels of autonomy, transparency and camaraderie spinning, to have a bunch of energetic employees ready to take your organization to the pinnacle of success.
So come ahead, recognize your disengaged workers and re-engage them by helping them reconnect emotionally with your business mission. Inspire communication and create fun opportunities to make sure engagement rules at your organization!
You can also CONTACT SOCXO to get customized solutions for employee engagement.