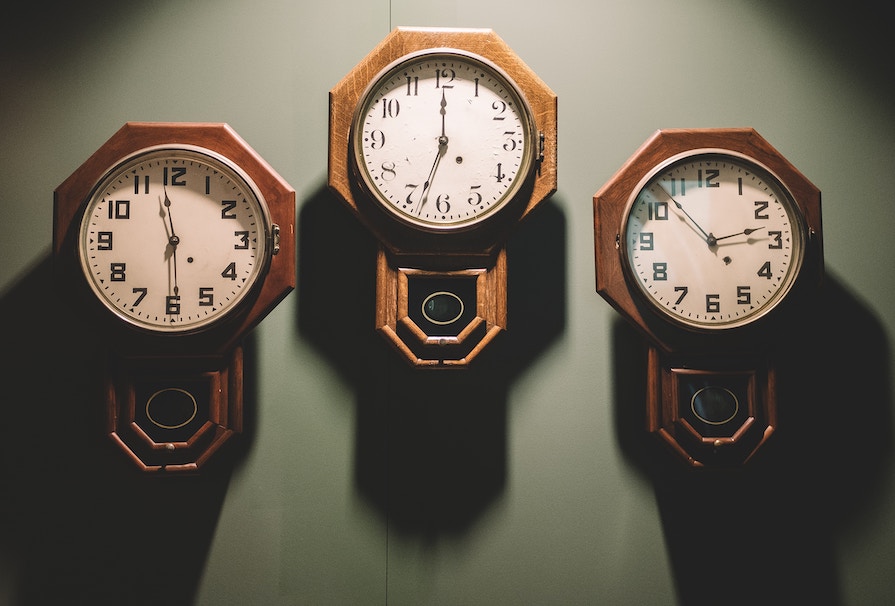 Whether 'tis nobler in the mind to suffer; The slings and arrows of outrageous fortune… It's more like "when to post on which social media channel."
These words immortalised by the bard, albeit, tweaked a bit by us, it's important to contextualise that we are in an age where the slings and arrows are actually content and status posts. Some which make a mark for better or for worse. And by people who believe or they don't.
Posting on social media is a given. But are there any best hacks or mixes? We understand this is a hugely variable topic. It depends on which category your business is, what kind of content you create, and the kind of audiences you target. But, to get off to a start, there could be some basic patterns which we could set-up and then build it from there.
We looked through many researches and reports given by the heavy hitters on social and compiled the same for easy reference by social media channels. If you want to check out the sources or the attributions, the links are given at the bottom of this article.
Use this ready reckoner to elicit maximum viewership as well as engagement for your content. We have covered the four main social media channels to give you the broad brushstrokes around it. To get specific to your business, you need think about how it could work in your category.
Without much ado. Here goes.
LinkedIn:
If you have great content planned for the week, shift your posting to Wednesdays, followed by Tuesdays and Thursdays.
Best times are either times when people are on the move mornings or evenings.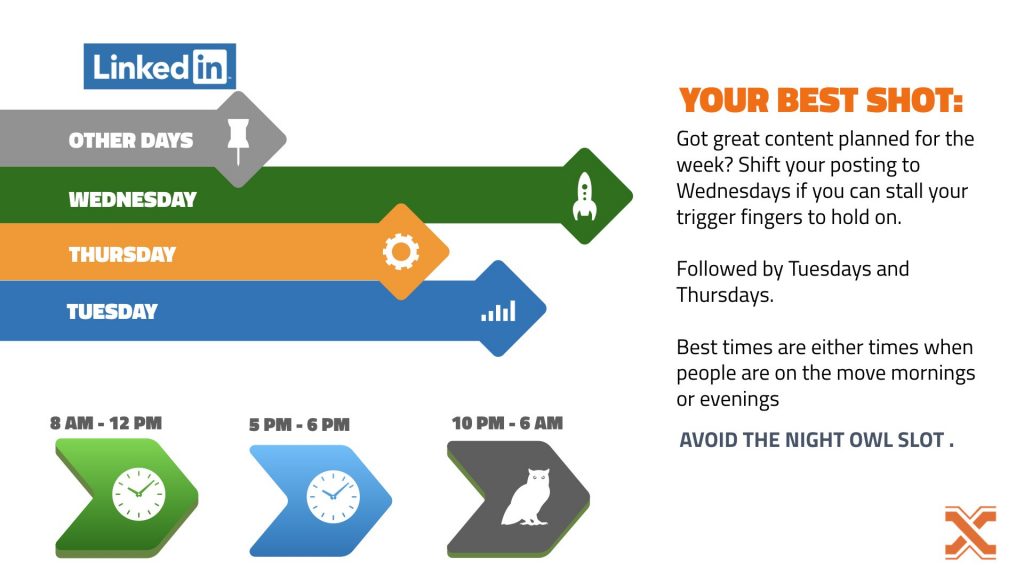 Facebook
Across industries, the best days to post on Facebook are Wednesday through Sunday.
On weekdays, it's best to schedule posts for the start of work hours and also for lunch breaks.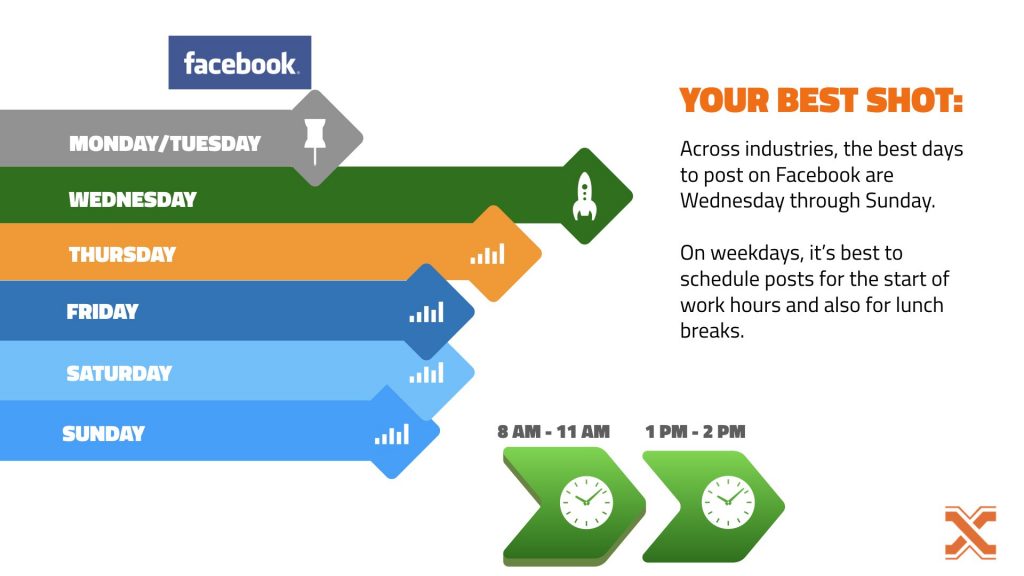 Twitter:
Twitter is like an RSS feed. So the best time to tweet is when people are traveling to work or heading back home. Monday through Friday. The worst times are weekend evenings and post lunch on Friday. Wednesdays deliver the highest engagements, retweets and CTR's.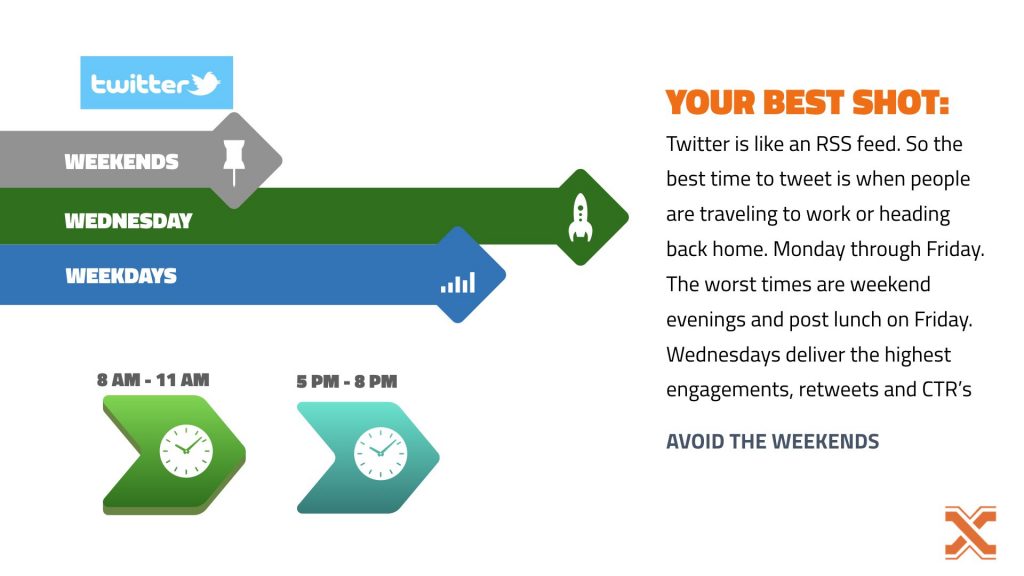 Instagram:
While Instagram runs well through the weekday stretch, the best day to post on it is Friday. As with the other channels, Wednesdays are incredibly popular too. Time your Instagram posts to coincide with lunch hours, or close of business hours.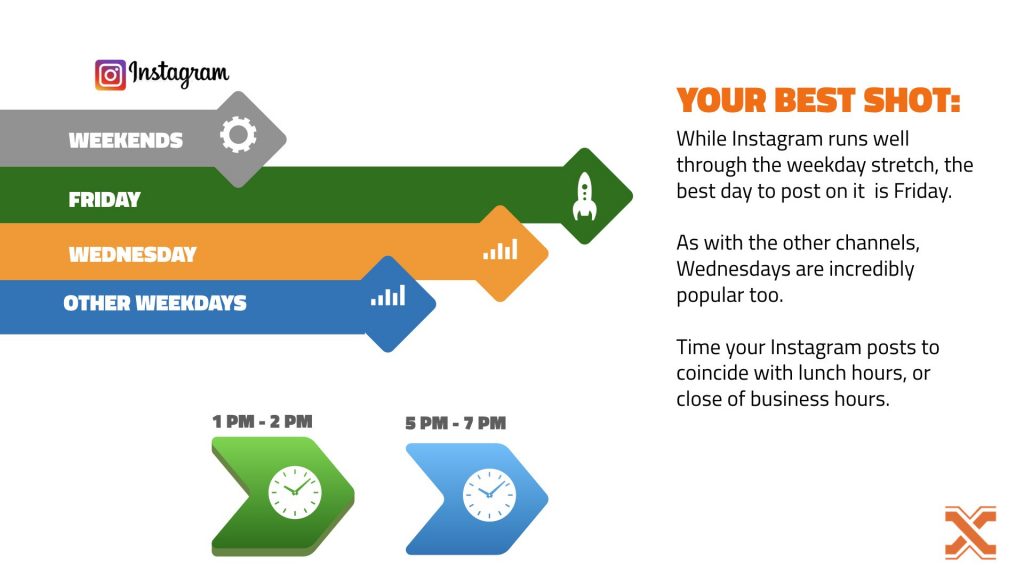 Sources:
https://blog.hootsuite.com/best-time-to-post-on-facebook-twitter-instagram/#instagram
https://blog.hubspot.com/marketing/best-times-post-pin-tweet-social-media-infographic
https://www.falcon.io/wp-content/uploads/2019/01/best-times-to-post-1.pdf
https://www.socialmediatoday.com/news/new-report-looks-at-best-times-to-post-on-the-major-social-platforms-in-201/557530/
https://www.thebalancesmb.com/best-and-worst-times-to-post-on-linkedin-2531450
https://www.thebalancesmb.com/best-time-to-post-on-facebook-for-maximum-exposure-2531470
https://www.thebalancesmb.com/best-time-post-twitter-2531471
https://www.thebalancesmb.com/instagram-marketing-tips-2531448