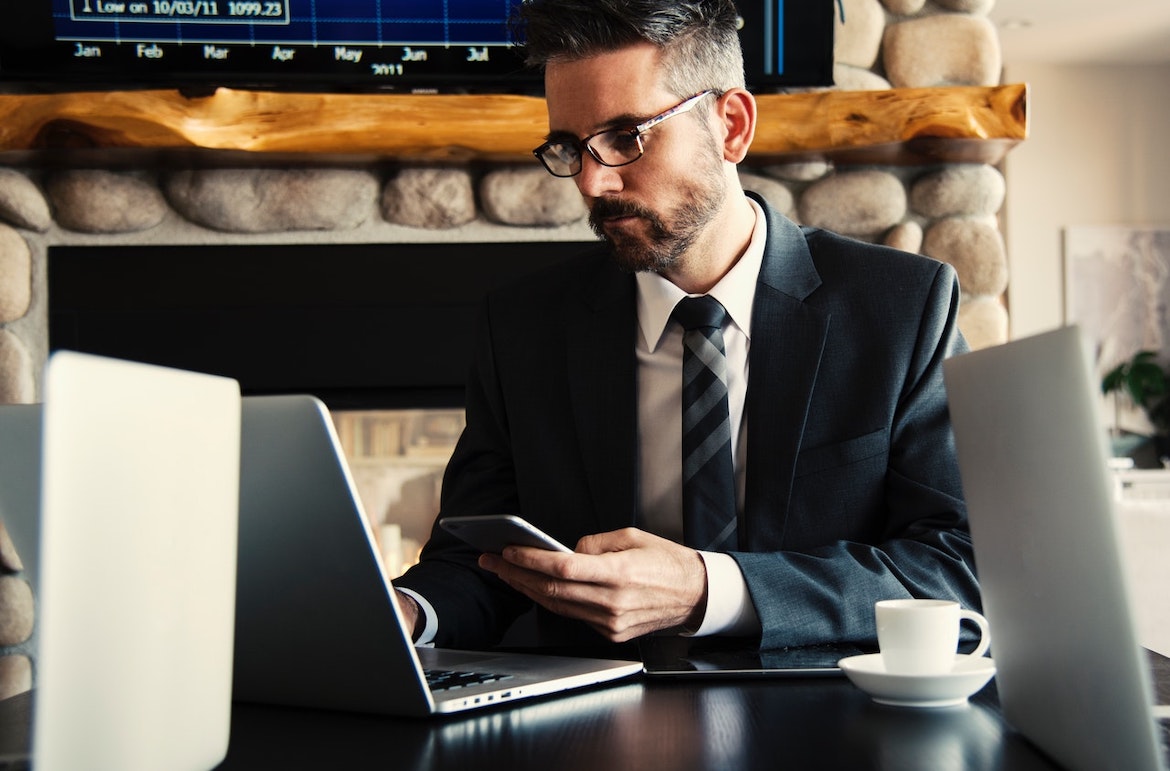 "In the world of B2B, your professional network is everything. Because your business is about business, the potential of who you know and who they know is where powerful connections happen."
– Amber Naslund
When we look at Amber Naslund's quote closely, we understand that there is great potential for growth and networking in the people a business knows and the people they know. The best way to harness this power is by using influencer marketing. People believe in other people more than they believe in a business. It's that simple.
Influencer marketing is often mistaken to be solely for B2C businesses and is not talked about too much from the B2B perspective. But that needs to be corrected. B2B influencer marketing content delivers 11 times higher ROI than other forms of digital marketing!
If that sounds interesting to you and you are thinking about using B2B influencer marketing for your business, keep reading.
Anyone can incorporate a B2B influencer marketing strategy. But not every is effective and works. If you want a result-driven strategy, this article will help.
One of the greatest examples of B2B influencer marketing is what Microsoft did, pairing with National Geographic for International Women's Day as a part of their 'Make What's Next' Campaign. 30 photos were posted on National Geographic's five Instagram accounts that garnered 3.5 million likes in total, reaching 91 million people. Microsoft leveraged National Geographic's social media reach and created awareness for 'Microsoft Mixer,' a free workshop for women.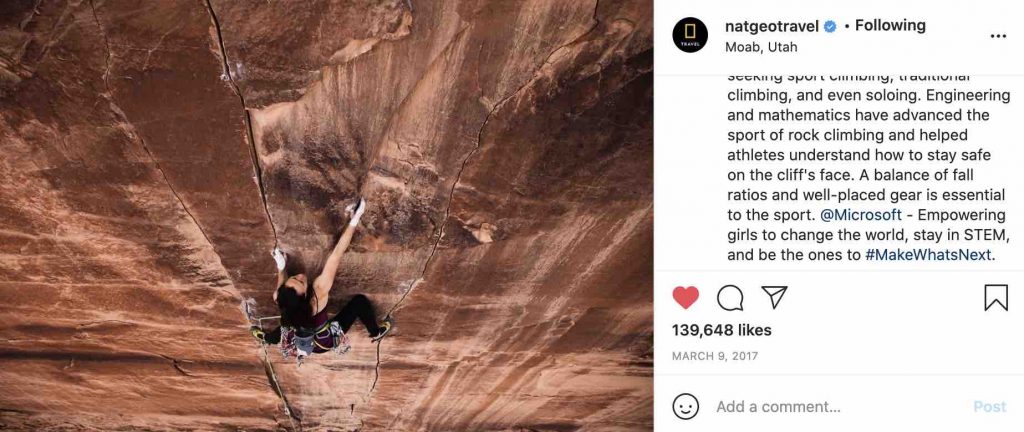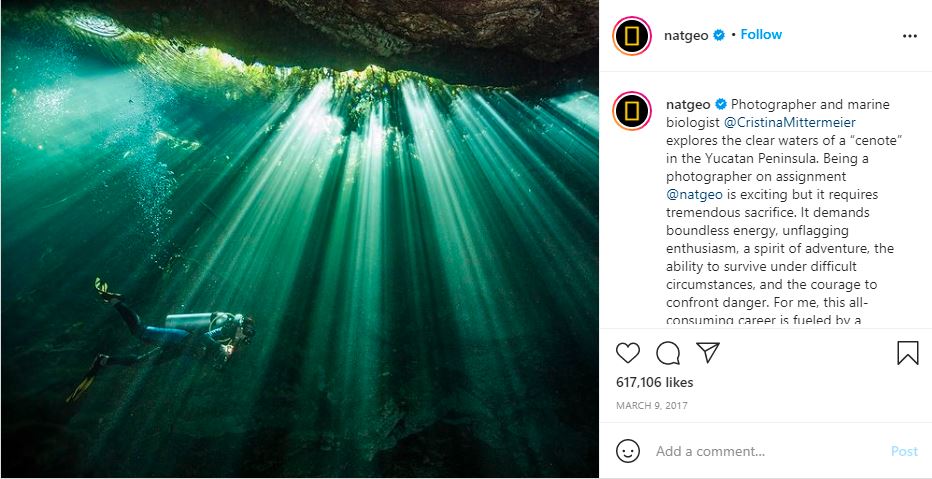 To create something as impactful as that and get answers to pressing questions about B2B influencer marketing, keep reading this article.
Easy Index
If you don't want to read through the entire article (which we highly recommend you do), you can simply click on the section that you want to read out and jump to it directly.
What is B2B Influencer Marketing?
While marketing is done through ads, B2B influencer marketing is done through businesses and people associated with your business. Influencers are experts or famous businesses/people with a good number of fans or followers on their social media accounts. Literally, 'influencers' are those who can 'influence' decisions and opinions.
B2B influencer marketing is aligning the thoughts and ideas of industry experts and thought leaders with your business' vision. It is collaborating with them to promote your brand and achieve important business goals.
For example, if your company is into developing software and applications, thought leaders in the software development industry, bloggers and reviewers of software, influential developers will be great partners for your B2B influencer marketing program.
How Does B2B Influencer Marketing Help Your Overall Marketing Strategy?
Create a stronger impact: Through ads or other conventional methods of marketing, you may be able to create a short-lived, passing impact that people or businesses might not take seriously. But when an influencer of your industry makes a statement, people pay attention, creating a stronger impact.
Rise as an industry expert and a thought leader in your field: With improved content, B2B influencer marketing may get your credibility, support, and acclaim. When influencers promote your brand, it creates a respectful image that will portray your brand as an industry expert and a thought leader.
Drive a higher ROI: As we read before, B2B influencer marketing is effective and drives a higher ROI when compared to other forms of digital marketing. You have the exact same marketing budget, but your returns increase 11x!
Interact and reach a large number of people and businesses: When you align with an influencer, you get a combined reach in millions across different digital platforms (like social media, YouTube, etc.). The number of people you can reach with your marketing strategy will be much higher. This is also great for brand awareness.
Fine-tune your target audience and reach people who actually matter: People who follow an automobile company will be interested in automobiles. So if you are a tire manufacturer and get the automobile company to talk about you, you will directly interact with the target audience that fits your marketing goals. This way, your campaigns will be tailored and more effective.
Increase customer retention: Brands and people remember things when they are said by someone who is famous or respected in that industry, instead of the brand saying good things about themselves. This increases customer retention, which means they will remember your brand for longer, might end up searching you, contacting you, or following you.
Types of B2B Influencer Marketing
There can be various ways through which you can run an effective B2B influencer marketing campaign. You can either start with one of the following ways or combine a few of them to get the desired results.
1. Social Media Posts
The most common way of doing B2B influencer marketing is to ask the influencer to create social media posts as text or graphics to promote your brand. This could be a direct promotion of your brand or indirect promotion of the products and services that are offered by your brand.
2. Videos
Another popular form of B2B influencer marketing that can go beyond social media platforms is videos. For example, you can collaborate with a YouTube influencer brand to talk about your product. Let's say your company is into the manufacturing of teacups. You could approach a tea brand with a highly-followed channel to talk about how your teacups and their tea are made for each other. Videos have a higher retention rate than text or static posts.
Another way to do this is to request your existing client brands to post a video reviewing your services and the overall experience they had. This is proven to work well.
3. Giveaways & Gifts
This one way of B2B influencer marketing that works. Ask an influence you have tied up with to ask a question about your brand. The ones who answer it right can get a gift or a discount coupon or a shopping voucher from your brand. This is beneficial for the audience as well, and the rates of engagement are higher.
Many brands who are into influencer marketing have resorted to giveaway campaigns, and it wouldn't be wrong to say that they have always worked.
4. Takeover
An interesting type of B2B influencer marketing that you have to implement with caution. You let the influencer takeover your social media accounts for a day or two days and post about what they want (a day in the life of). A good way to do this would be to let your employee run your account. Employees can make great influencers, and this doubles up as employee branding.
5. Affiliation
Affiliate with another popular brand and let them have commissions or any other kind of compensation as per the terms of your contract, in exchange for promoting an event or a product. Affiliate marketing is a different kind of marketing strategy altogether, but when you combine it with a B2B influencer, it works well.
6. Ambassadors
Another type of B2B influencer marketing is to declare an influencer as your brand ambassador. 91% of B2B buyers said that their buying decisions were influenced by word-of-mouth. Whether you are launching a new product, exhibiting at a trade conference, or anything else, a B2B brand ambassador can generate leads, drive sales and bring in credibility.
7. Blogs & Articles
Guest blogging and thought leadership articles work wonders for B2B influencer marketing. Invite an industry expert to blog about an issue that is trending in your field of work and requests them to share it in their circle and on their social media accounts.
How to Find the Right B2B Influencer? Where to Look?
B2B influencers are different from B2C influencers. You have to remember that since your target is other businesses and brands, you must choose an influencer who is closely tied with a few or can connect with the decision-makers in other brands. So who can be a good B2B influencer? Who can help run an effective campaign and meet your goals?
Here are some suggestions:
Your channel partners, vendors, other businesses your work with.
Industry experts in your field whose opinion matters.
Your employees who are active on social media and can appeal to the mass.
Your customers who are active on social media and have a good number of followers.
Different fan groups and communities, online and offline, whose interests match with what your brand is about.
Use online tools to identify influencers (we will talk about these in the next section).
Look for existing advocates in your industry, then for those who influence your customers already.
Effective Tips to Create a Result-Driven B2B Marketing Campaign
1. Focus on the Content and the Medium:
You may find the right influencer, but if the content of your campaign is not interesting — if you and your influencers are not having fun while creating it — then there are high chances of the campaign failing. Here are some tips to keep in mind while creating good content:
Be clear about what your company values are.
Tell your audience something they don't know.
Emotional content always works great.
Show them that your brand is transparent, share stories about your company.
Offer tips, tutorials and relate the campaign with everyday life.
Get others to talk about your brand, like customers and employees.
Funny and witty content gets a higher amount of engagement.
Tap in on the trends, create content that everyone is interested in talking about.
Organize themed giveaway campaigns. For example, if Valentine's day is around the corner, your giveaway could include a coupon for a couple's spa.
Give a lot of thought to content and the format of content. Will it be a video, a graphic, a GIF, a podcast, an eBook, a blog, or a short Tweet? Where will this campaign run? Offline, online? Just on social media or also in emails, on YouTube, etc.? These are important questions to answer.
2. Tailor your Campaigns:
It is wise to have more than one influencer, but it is unwise to have the same content strategy being used for all the influencers. Tailor your content strategy for your B2B influencer marketing campaigns to ensure that they stay effective. If one influencer is from Alaska, while another is from Saudi Arabia, the target audience, the style of talking, the culture, among other things, are different. Customize each campaign according to the B2B influencer.
3. Beta-test your Campaigns:
You should not only run a trial before you take an influencer on board but once that is done, you should test what kind of post, content, style of writing, time of posting, etc. is working well for the brand. Make 3 different memos for an influencer, each being unique in its content and idea, and let them work on that. See which one out of the three is working best for that influencer. One could be something funny; one could be something emotional or have a human-interesting angle to it, and so on. Beta-testing will ensure that you invest in what is proven to work.
4. Create an Influencer master sheet:
Use Google Sheets or other tools that you are familiar with to create a dossier — a master document that contains all the information about potential influencers that you can look at in one view. This will help you compare your influencer candidates and choose the best. This sheet can contain their strengths, weaknesses, the number of followers they have, platforms they are active on, age, gender, current locality, brand awareness level, expertise level, contact information, and other such information fields. With this sheet at your disposal, you will be better equipped to run an effective B2B influencer marketing campaign.
5. Have ongoing, 'always-on' Campaigns and a Longer Time Horizon:
Your customers are not going to wait for a campaign to make a buying decision. This is why one-off B2B influencer marketing campaigns do not work. You need to have ongoing campaigns and consistently invest in this strategy. This creates a better relationship with influencers and customers, leading to higher conversions.
Another thing to remember is to run these ongoing campaigns for a longer period of time so as to drive maximum impact. You cannot expect results in just three months. You need to be consistent and persistent. An ideal timeline would be to work with the influencers for a year.
It is important to remember that behind a business is people and connecting with those people is vital.
6. Use data and software to Identify Influencers:
Lee Odden, the CEO, and founder of TopRank Marketing says, "Influencer identification is one of the top challenges for B2B marketers—most use subjective sources like their own networks or recommendations from others without data validation. Only 35 percent are using the software."
41% of marketers do not use technology to identify influencers. This not only makes the process manual and time-consuming but also leads to ineffective choosing and identification of B2B influencers. Instead, you can use tools like:
• BuzzSumo
• Pitchbox
• GroupHigh
• Onalytica
• Traackr
7. Stop looking at B2B Influencer Marketing as a Transaction:
Your influencers are humans, and most businesses forget that. It is not all about money. If the influencer believes in your brand, then the result of the campaign will be better. It is wise to remember that a good B2B influencer marketing campaign often has an intention to 'give'. Let's look at Maybelline, for example. For its Fashion Week 2016, it collaborated with 15 beauty experts from 15 different countries and made videos giving make-up tips and tutorials, reaching 13.9 million businesses!
8. Social media presence is not the only factor to consider:
There are people who are famous, experts in their fields but are not on social media. Take Seth Godin, for example. But this does not mean that they cannot be your B2B influencers. Don't judge people solely on social strength as B2B influencer marketing transcends this space. Look for researchers, orators, celebrities, scholars, etc., who can talk about your brand at conferences, in print, in their podcasts, interviews, or anywhere else, other than social media.
9. Spend time educating and interacting with your influencers:
The more they know, the better it is. Tell them everything about your company, the story behind starting it, the employees, the vision — all of it. Don't hold back. Give them a demo of your product or service so that they fully understand what they are going to advocate for. If the influencer has half-cooked information, that will get passed on to your target audience, and that's not good for business!
Another thing you should do is interact with them, especially when they are new and not very passionate about the field of business you are in. Win them over. Know who they are.
10. Co-create but give them Space:
You cannot just pay your influencers and forget about them. You need to brainstorm and co-create with them. Discuss your goals and visions clearly. Then let them pitch their ideas to you. Send in your suggestions. To sum it up in a few words, be involved in the whole process if you want to create a campaign that meets your business goals.
How to Check If Your B2B Influencer Marketing Campaign is Effective?
You have followed all the tips, and it's been a few weeks since you started on your B2B influencer marketing campaign. But, wait, your job's not done yet. An important but missed step to ensure that the campaign drives results is to monitor it constantly. Are you getting the results you aimed for? Is the campaign working? Do you need to do some tweaking? Before you can answer these questions, here are some tips on how to determine whether the marketing campaign is effective or not.
1. Run a Trial & Get Evidence
Before we watch a film, we look at its teaser. It's like a preview. So before you sign a B2B influencer marketing contract with the influencer(s) of your choice, run a trial campaign. Decide on the commercials for one post and see how that performs. Ask for screenshots about the reach, engagement, and other metrics that will help you decide whether that influencer is right for you. You can ask them for a full report on the audience demographics too to ensure that the people who are seeing and interacting with the post are your target audience.
2. Set Clear Goals For Your Campaign
What do you want from the campaign? It cannot be something as vague as growth. You need to set specific goals like getting more followers, getting more link clicks to your website or a certain product, getting more sign-ups for an event, etc. This is important because without a clear goal, assessing your campaign performance will not be accurate.
Here are some good goal examples:
Get 1000 link clicks to the website from the influencer's post.
Get 20,000 new followers on Instagram or any other social media platform.
You should also have an expected conversion rate in mind. Choose a number between 2-7% based on the industry you are in and try to achieve that.
3. Measure Your Campaign's ROI
While there is no clear way of measuring your campaign's ROI, you can use such as Google Analytics, Facebook Pixel, etc., to extract data from. The easiest way to measure whether a campaign is working or not is to compare the data from the week before the campaign started and the current week. Note the metrics like clicks, impressions, engagements, etc. You can also match the data with the screenshots you receive from the influencer about performance.
Here are some questions you can ask to measure your campaign's ROI:
How many people are visiting your website every day today, compared to before the campaign started?
What kind of B2B influencer campaign is working the best? Blogs, videos, posts?
How many followers have increased for your brand's account since the campaign started?
How many people liked and commented on the influencer's post that was shared?
You can also use some influencer tracking platforms like NeoReach, Grin, TapInfluence, etc., to measure your campaign's ROI.
4. Run Through the Influencer's Followers
Just a quick run through your influencer's followers will tell you where most of the followers are from. Don't deject the idea that these followers can be bots. You might ask, how does this help determine the success of your B2B influencer marketing campaign? If the influencer uses bots to inflate the Instagram account, then despite likes and comments (which can also be bought), you will not get a good conversion ratio for your marketing campaign. So keep checking this while your campaign is running. You can randomly open accounts of the people who have commented to check if they are real or fake.
5. Try Interacting With the Influencer From a Different Account
How does the influencer react to a message or a comment that is about your company or product? Are they responsive? Are they respectful? How do they handle requests? This is another great mechanism to check whether the campaign will be effective. If the influencer is rude, ghosts, or simply ignores queries and comments, then the number of leads that you will generate from the campaign will be fewer.
6. Find Out the Engagement Rate
How many followers does the influencer have? Compared to that, how many likes or comments do they have on their posts? If they have lakhs of followers and the likes are in hundreds, beware — the influencer has bots.
Apart from that, check which post has had more comments and likes (engagement insights will help). A high engagement rate equals a high conversion rate. That is the kind of content you need to create in the future for a better B2B influencer marketing campaign.
Interesting B2B Influencer Marketing Statistics to Look At
Numbers don't lie. Here are some statistics that will help you understand the importance of B2B influencer marketing:
Some Great Examples of B2B Influencer Marketing That Delivered Desired Results
We always learn better by example. Here are some great B2B influencer marketing campaigns in action:
1. American Express
The famous company came up with a B2B influencer marketing called 'Love My Store'. AmEx collaborated with two influencers, Grace Bonney and Emily Henderson to reach out to small businesses. The goal? To let people know that small business can also accept credit cards — these American Express cards. The campaign had 5 million impressions and 4000 AmEx decals were put up in stores.
2. Salesforce
Salesforce looked within for their B2B influencer marketing campaign — their CEO Mark Benioff is their biggest influencers. With a large number of followers on Twitter, Benioff not only promotes Salesforce on his Twitter handle but also talks about different issues that attract people's attention. Because of this, his word is taken seriously and Salesforce has achieved a terrific brand reputation. It's simple yet smart.
3. VideoFruit
VideoFruit is a company that provides coaching programs, software, email list building tools for businesses, courses, and other tools. Its founder Bryan Harris, started guest blogging on other more popular websites that had entrepreneurs as their readers. One day, when one of his blog posts was published on OkDork, 1086 visitors visited VideoFruit's website. Before the post, the daily average of visitors was around 285. Harris discovered the power of guest blogging and unknowingly aced B2B influencer marketing.
4. Time Warner Business Class
Time Warner Business Class looked at its customers while charting out its B2B influencer marketing plans. These customers ran small and medium-sized businesses. They took video testimonials of some of their customers that highlighted how essential Time Warner Business Class was for the success of any business. Each video had a call to action at the end that helped Time Warner boost its business multifold.
5. Top Rank and Content Marketing Institute
In 2014, used B2B influencer marketing to promote their 2014 Content Marketing Conference. They reached out to 40 different influencers from big companies like LinkedIn and Facebook, asking them to give advice to marketers for content marketing. This was then turned into four different eBooks. The results they got were simply amazing. They had over 2 lakh views, 4000 book downloads, about 200 event referrals, and about 1000 leads!
---
Quick Tips
Here are some quick tips you need to keep in mind if you want to create and run a B2B influencer marketing campaign that delivers results:
Never put all your eggs in the same basket. Invest in multiple B2B influencers and diversify.
Keep monitoring your B2B influencer marketing campaign at all times. Stop and try something else if it does not work.
Don't stick to one type of B2B influencer marketing tactic. Use a combination of them all for great results.
Go Influence!
B2B influencer marketing has untapped potential. Try it for your business keeping in mind the tips we gave in this article. It's new, innovative, and currently the trend in the world of marketing. If you are ignoring it, then it's a mistake.
If you are living in the 21st century and have started your business' digital marketing efforts but are doing that without B2B influencer marketing, then you aren't getting the best conversion ratio. Jump on the bandwagon! Create a better impact, reach more people, and drive better results. Get real.
Check out our advocacy product which will help you curate, manage and amplify your B2B influencer marketing program.