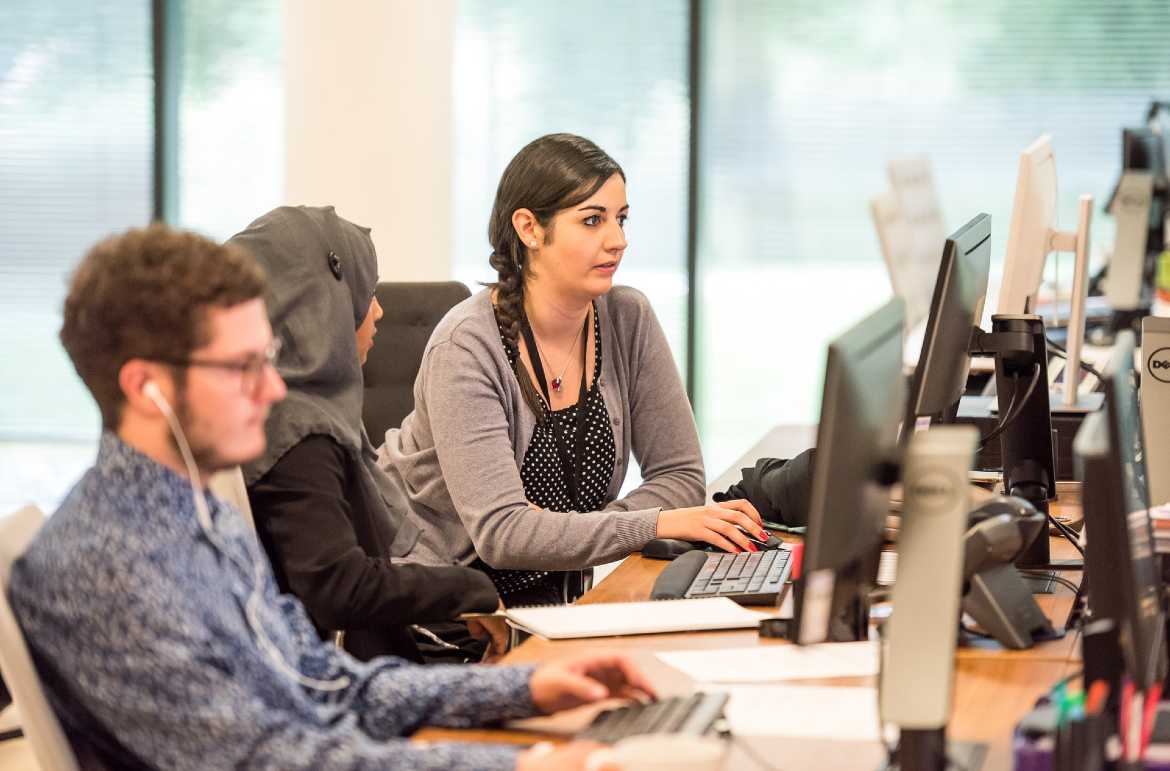 As we've seen recently, a requirement for having a viable and powerful employee advocacy program is for you to trust your employees and for them to trust you. Of course, you need to trust them to advocate for you; but if they don't trust you then they could easily cause more damage to your brand than benefits! In fact, the recent 2016 Edelman Trust Barometer discovered that only a shocking 48% of non-management employees said that they trust the companies they work for, with managers clocking in at just a fraction over at only 51% saying the same thing. So to help you get your trust relationships building and give your employee advocacy a kick-start, team Socxo has put together the following key steps for success:
Evaluate Employee Engagement Levels
Remember a simple fact: employees won't advocate for you unless they want to. So the key here is to make them want to. First, evaluate their engagement levels and see how the relations are between management and office floor employees. If they are strained, then asking your employees to advocate will be a recipe for a disaster. They'll end up saying and doing things that will reflect their mood – unhappiness and discontent – which in turn could ruin your brand's reputation beyond repair. Rather, give your employees an experience similar to the ones you give your customer – then they'll be engaged!
Define What's In It For Them
Even if your employees are engaged, they'll be more enthusiastic to advocate for you if they see how it will benefit them. You can get them on board by helping them see how it will help build their personal brands and following, increase their visibility and give them opportunities for career advancement.
Work Towards An Objective
Define an objective that all involved (employer and employees) are keen to work towards. Rather than just focusing on a target of promoting your brand, look beyond that and focus on something bigger. This could be something such as improving or advancing a particular industry, technology or application, or improving the quality of life of a certain population. So rather than curating and sharing content specific to your brand or products, make it tailored to a particular subject matter of interest which will then attract greater attention from advocates, thereby also promoting your brand in the process.
Find Key Influencers and Start With Them
Rather than aiming for 100% participation from the word go, work to grow the number of participants in your advocacy program organically by first enlisting key influencers. Once they're on board they can work to enrol others through word-of-mouth encouragement. Having key people on board early will create a proof of concept for the other employees, who will also want to get in on the action. Soon your program will be the happening thing and most people will want in from their own initiative!
Make It Easy and Fun
Give your employees the required training and address their fears before you kick-start your employee advocacy program. This will make it easier for them to join in as they'll have the know how and confidence. Don't rush them into joining till they're ready. Give them helpful content that they're comfortable enough to share and show them how to do it if needed. While it's never best to make employee advocacy a paid proposition, spice things up with a few low cost and fun incentives. By just adding a gamification factor you'll be giving employees a motivation boost.
Leverage the collective voices of your employees via their own networks to enhance brand visibility, perception, and trust – thus accelerating website traffic, lead generation, and sales conversions. A 5 step implementation for a Successful Employee Advocacy Program is given in the infographic below.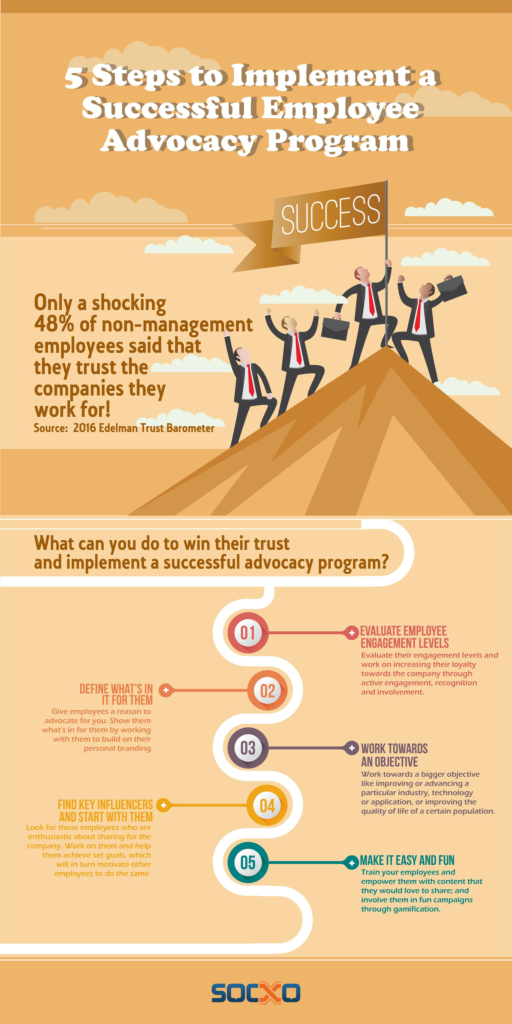 What can you do to win their trust and implement a successful Employee Advocacy Program?
Evaluate employee engagement levels: Evaluate their engagement levels and work on increasing their loyalty to the company through active engagement, recognition and involvement.
Define what's in it for them: Give employees a reason to advocate for you. Show them what's in for them by working with them to build on their personal branding.
Work towards an objective: Work towards a bigger objective like improving or advancing a particular industry, technology or application, or improving the quality of life of a certain population.
Find key influencers and start with them: Look for those employees who are enthusiastic about sharing for the company. Work on them and help them achieve set goals, which will, in turn, motivate other employees to do the same.
Make it easy and fun: Train your employees and empower them with content that they would love to share, and involve them in fun campaigns through gamification.
Like these tips? We've got more for you! Get in touch with us now and we'll give you the full lowdown on employee advocacy!